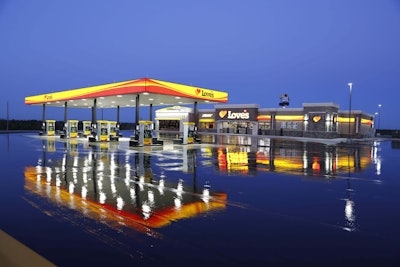 The rapid expansion seen by Love's Travel Stops in recent years, not only in new store locations but also ventures into things like factoring and cardless fueling, has been spurred in large part from customer input, says Love's Communications Specialist Kealey Dorian.
The Oklahoma City-based company opened more than 20 new locations in 2015 and announced in January it plans to open more than 40 new stores in 2016. The driving force behind that expansion has been conversations with customers, Dorian says.
"We always hear from customers they want service outside the Midwest, so we really try to listen to our customers and be strategic where we're locating," Dorian said. "The trucking industry needs more services and safe places to park in other areas, so in addition to opening stores along interstates, we've opened some smaller locations along state and federal highways. These areas don't have as much traffic as the interstates, but there's still truckers that travel these roads."
Many of these locations on state and federal highways are smaller and have fewer parking spots, so they require less time to build and can be opened faster, Dorian added.
Love's founder Tom Love uses the term "highway hospitality" to describe the company, and that's one reason Love's has begun expanding into hotels as well. Dorian said the company currently has five hotels – two in Texas and one each in Alabama, Florida and Georgia. The hotels are currently branded as Microtel Inn and Suites, Sleep Inn and Suites, and Sleep Inn/Mainstay combination hotels. Love's plans to add nine more hotels to its network in 2016, Dorian says.
"We have others we're working on to add to our hotel network," Dorian said. "We want to have brands people recognize. Currently, all but one is operated by third-party management, but we're transitioning them to where we will manage all of them."
For drivers and companies looking for factoring services, Love's Financial offers a full-service factoring package with no add-on fees, Dorian said. The cost of factoring with Love's depends on the size of the fleet.
"Customers can receive an advance rate of up to 100 percent of their freight invoice," she said. "They also receive a $1,500 fuel credit line and a fuel discount."
In 2012, Love's began adding RFID cardless fueling to its travel stops locations. Fleets who utilize RFID fueling add security and faster transaction times, according to Dorian. A card placed in the truck's windshield communicates with the RFID sensor at the fuel island, eliminating the need for using a card to fuel.