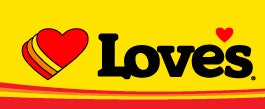 Love's Travel Stops expanded its east Texas offerings this week with the opening of its second location in Van, Texas, along I-20.
The new store is located across the street from its existing location at exit 540, the company says.
The new, 12,000 square-foot facility features an Arby's, Godfather's Pizza and Chester's restaurants, along with 74 truck parking spaces, seven showers, RFID cardless fueling, Cat scales and more. The original Van location offers 40 truck parking spaces and a Truck Tire Care Center.
The company adds a 74-room Fairfield Inn will open adjacent to the travel stop later this year.