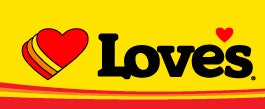 A new Love's Travel Stops location opened March 23 in Moore Haven, Fla., along U.S. Highway 27 and State Road 78, bringing 77 truck parking spaces to the area.
The new store is the 14th Love's to open in Florida. It features an Arby's restaurant, five showers, six diesel pumps, a game room, Cat scales and more.
"We're excited to open our newest store on U.S. Highway 27 outside of Moore Haven, which is just west of Lake Okeechobee," said Greg Love, co-CEO of Love's.