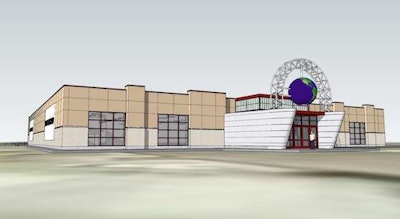 The Iowa 80 Truckstop in Walcott is getting a $10 million makeover. The truck stop is adding an extra 23,000 square feet to its existing 100,000 square foot building.
Construction began after the annual Walcott Truckers Jamboree and is expected to be completed by the end of 2018. Iowa 80 plans to remain open and continue providing its regular services during its three-phase remodeling project. Truck parking areas will be switched to pull-in, pull-out spaces but the current 900 trucking spaces will be retained, and truck parking may be expanded during the remodel.
During the first phase of construction, Iowa 80 will upgrade its drainage, transformers and fiber optic network. Phase Two is when more square footage will be added. One to two new restaurant options will be added, and new restaurant equipment will be installed for all existing restaurants. Guests can expect to see display trucks greeting them at the main entry,. The convenience store will be expanded to offer more grab-and-go foods.
In the final phase, a new boulevard will be created to route drivers to the fuel islands, truck parking areas, truck service center and Truckomat truck wash. This wide roadway will have a welcome arch for truckers at its entrance.