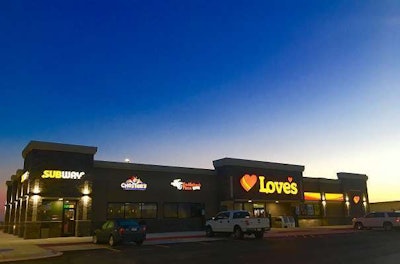 Love's Travel Stops last week opened two new travel centers in Mills County, Iowa, and Alma, Texas.
The Iowa location is near the Glenwood exit at I-29 and U.S. Highway 34, southeast of Omaha, Neb.; and the Texas store is off of I-45, exit 246. Together, the new stores offer drivers nearly 200 truck parking spaces.
The Mills County, Iowa, truck stop has 60 truck parking spaces, a Subway restaurant, laundry facilities and five showers. The Alma store has 138 truck parking spaces; Chester's Chicken, Godfather's Pizza and Subway restaurants; laundry facilities; and eight showers.
Both locations offer a Love's Truck Tire Care center.