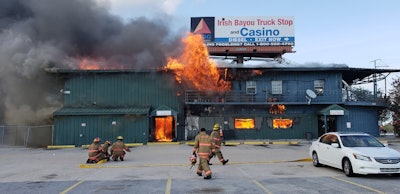 — NOFD (@NOLAFireDept) May 31, 2018
Two truck stops – one in Louisiana and one in Missouri – burned to the ground in the last week.
Last Thursday, May 31, the Irish Bayou Truck Stop and Casino off of I-10, just north of New Orleans, went up in a three-alarm blaze.
According to a press release from the New Orleans Fire Department, the two-story building had four customers and two employees inside when the fire started, and all six were able to get out without injuries.
NOFD says it was able to prevent the fire from spreading to the truck stop's fuel pumps, but the convenience store, casino and restaurant were "almost completely destroyed" in the fire.
Then, on Sunday, June 3 in Matthews, Mo., a Flying J travel center burned to the ground. According to a report from KVFS12, the building's roof completely caved in and the building is "a total loss."
The cause of both fires is still being investigated, according to reports.