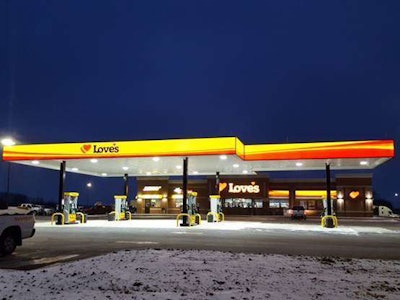 Two new Love's Travel Stops opened this week, including one in Virginia that opened early to help with the supply of fuel and food for those evacuating from the coast ahead of Hurricane Florence.
The Virginia store, located in Bastian at exit 58 of I-77, opened Wednesday morning ahead of schedule for the hurricane. The store features an Arby's restaurant, 51 truck parking spaces, seven showers and laundry facilities. It is the company's 11th location in Virginia.
The other store to open this week is in Tipton, Indiana, near the intersection of U.S. Highway 31 and State Route 28. It offers 69 truck parking spaces, a Hardee's restaurant, five showers, laundry facilities and a Speedco.
As Hurricane Florence closes in on the East Coast, Love's says it is monitoring the storm's path for its locations in Georgia, South Carolina, North Carolina and Virginia. The company adds it is increasing fuel and food deliveries to stay stocked at locations along evacuation routes. Any store closings as a result of the storm will be posted here.