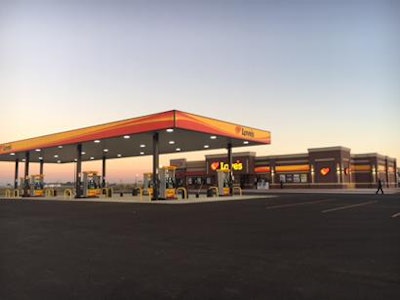 Love's Travel Stops capped off a busy week with two more store openings Thursday, bringing the company's total for the week to four.
The new locations are in Frenchtown, Michigan, on I-75 at exit 18, and in Laramie, Wyoming, off of I-80. The Frenchtown location offers 100 truck parking spaces, while the Laramie location offers 82 truck parking spaces.
The new locations offer Hardee's, Subway and Carl's Jr. restaurants and Love's Truck Tire Care centers. The Laramie location also has laundry facilities.
Earlier this week, Love's announced the opening of a store in Tipton, Indiana, along with the early opening of a store in Bastion, Virginia, to help supply those evacuating from Hurricane Florence.
As of Friday morning, Florence has prompted the company to close four of its locations in the Carolinas, including the Speedco in Kenly, North Carolina; and Love's stores in Orangeburg and Dillon, South Carolina and Dunn, North Carolina. An updated list of hurricane closures can be seen here.