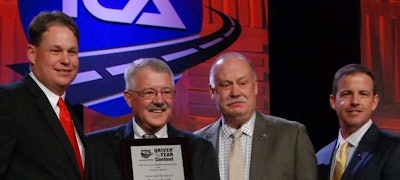 Danny Smith, a dry van driver for Big G Express of Shelbyville, Tennessee, was honored at the TCA's 78th annual convention as the TCA-Truckers News Company Driver of the Year, announced March 8 in Las Vegas. It was the third time in four years that Smith was nominated for the award.
Smith, who has been driving for Big G Express for more than 21 years, received $25,000 in the contest sponsored by Love's Travel Stops andCummins and presented by Randall Reilly's Truckers News, sister publication of Overdrive.
The other two finalists — Guy Broderick and David McGowan — each received $2,500.
The Owner-Operator of the Year award was presented by Overdrive — Click here to read coverage of that award's winner.