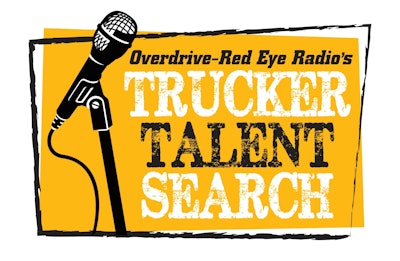 Online audience voting for Overdrive–Red Eye Radio's Trucker Talent Search, a singing performance contest for truckers, runs through June 15.
Visit TruckerTalentSearch.com for more details and to view the videos submitted by this year's 35 contestants. You can vote for one video per day through 11:59 p.m. CDT on June 15.
Three finalists, selected through a combination of the online audience voting and a judging panel, will attend The Great American Trucking Show in Dallas in August and will compete live for first place, which includes a cash prize, plus a studio recording session provided by AxleOutPro. Tony Justice will emcee the event.
Below is a playlist with all 35 of this year's videos. You must visit TruckerTalentSearch.com to cast your vote.
For results from last year's Trucker Talent Search event at GATS, run through audio of the performances from the day via the SoundCloud playlist below.