Three singing truckers will compete this month at The Great American Trucking Show in Dallas, where the drivers have been invited to participate in the Overdrive-Red Eye Radio Trucker Talent Search finals.
They were selected by judges from 42 entries. The winner will receive $1,000 and, courtesy of trucking vendor Axle-Out Pro, a studio recording session.
Trucker and recording artist Tony Justice, who drives for Tennessee-based Everhart Transportation, will emcee the live competition Aug. 25, the second day of GATS. The winner will be featured in more detail this fall in Overdrive.
This is the first of three profiles highlighting this year's finalists. See all three profiles at this link.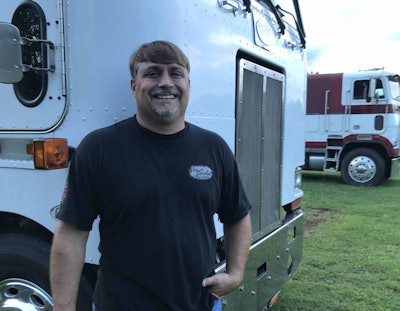 Bio:
Richard Woods, 42, of Hickory Flat, Mississippi
Owner-operator, Eagle Systems
Hauls rail containers
Driving for 23 years
Richard Woods comes from a trucking family, with a father who drove trucks and farmed with his grandfather and great-grandfather.
"My granddad had a cotton gin in those years, so between the farm and the gin, my dad hauled a lot of cotton, cottonseed and grain," says the native of Marshall County, Mississippi. "I always wanted to go with him, and I did as much as I was allowed. I guess it just got into my system. I got my CDL when I was 19, and that's pretty much all I've ever done."
Woods started learning guitar at about 13 years old, and he's been strumming ever since. He was exposed to different pop and country genres by his parents and has written songs off and on since about age 20. He still listens to a wide variety of music, especially artists who reflect his taste for "the simple stuff."
"With today's technology, music has gotten pretty 'busy,' for lack of better words," Woods says. "I find myself enjoying just the sounds of the guitar, or maybe piano and guitar with someone's vocals." So legends such as Willie Nelson, Waylon Jennings, Johnny Cash and Don Williams are high on his list. Chris Stapleton, Aaron Lewis and Colter Wall are some of his contemporary favorites.
Woods also plays in his church's worship band. "I like hymns that I remember singing at church when I was young, and I like the newer praise music as well," he says. "I like Zach Williams, Casting Crowns and Third Day."
Though Woods wouldn't mind building his own fleet — "nothing too big because I'll probably still want to drive some myself," he says — he enjoys driving his 1999 4964EX Western Star around the Memphis, Tennessee, area and up to a 400- or 500-mile radius.
"It has a 12.7 Detroit 500-horse engine, 13-speed transmission, with 3:55 rears," he says. "I've put a lot of time and money into it and still have plenty to do yet, but I do enjoy it at the end of the day."