Three singing truckers will compete this month at The Great American Trucking Show in Dallas, where the drivers have been invited to participate in the Overdrive-Red Eye Radio Trucker Talent Search finals.
They were selected by judges from 42 entries. The winner will receive $1,000 and, courtesy of trucking vendor Axle-Out Pro, a studio recording session.
Trucker and recording artist Tony Justice, who drives for Tennessee-based Everhart Transportation, will emcee the live competition Aug. 25, the second day of GATS. The winner will be featured in more detail this fall in Overdrive.
This is the first of three profiles highlighting this year's finalists.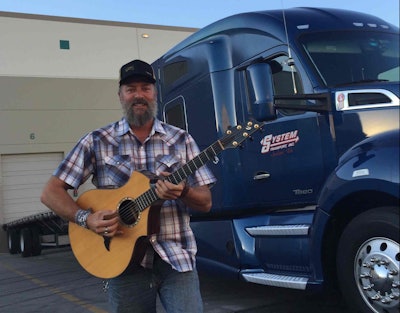 Bio:
Michael Lochmiller, 48, of Las Vegas, Nevada
Company driver, System Transport
Hauls coils, copper, steel, sheetrock, roofing and rebar
Driving for two years
Michael Lochmiller says the 45 rpm record of C.W. McCall's "Convoy" was his first experience with recorded music, an appropriate beginning for this Trucker Talent Search finalist.
"My dad, at the time, looked a lot like Glen Campbell," Lochmiller says, adding to his admiration for the star performer. "I would be glued to the TV wanting to do what he did."
At 12 years old, he began to emulate his musical hero by getting a guitar and "never looked back." Lochmiller also learned to play piano, bass, drums, mandolin and harmonica. "My dream to play the spoons and washboard has so far alluded me," he says.
Lochmiller cites other musical influences, including James Taylor, Lynyrd Skynyrd and Jackson Browne. He has recently gotten into the "guys in the Texas music scene," including Ray Wylie Hubbard, James McMurtry and Gurf Morlix.
Lochmiller's previous career as a stage manager and tour organizer led to him catching the trucking bug about five years ago.
"I traveled around with a rock band on tour and had many nights discussing commercial vehicles with bus drivers, which ultimately allowed me to see the country and get my CDL," Lochmiller says.
Since then, he's been traveling the nation as "a free and easy rambler with no spouse, children or pets — although I do have houseplants in my truck."
Lochmiller says trucking as a vocation and a lifestyle provides an "endless backstory for song ideas."
"The rich history of the two brings a lot of depth to the process of songwriting. There is a romance — mixed with struggle — on the road that can't be denied as great fodder for song ideas."
He hauls flatbed over the road and handles a dedicated route in the summer and fall months in the West.
Lochmiller says he'd love to make his way back to southern Oklahoma, where he spent his formative years. But the real dream, he says, would be "to have a custom rig, go to truck shows and maybe haul one load a month."