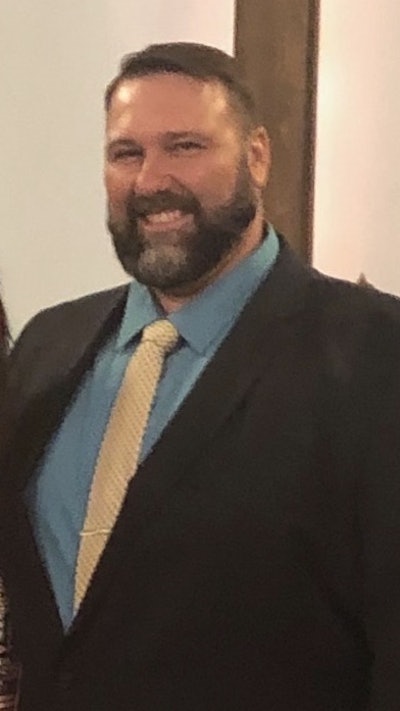 Eric "Hoss" Kirgan has been driving professionally for 15 years and currently hauls tanker and hopper freight. He's a top 10 finisher in Overdrive-Red Eye Radio's Trucker Talent Search, for which he submitted an original song, "Put the Hammer Down." The Pittsfield, Illinois-based driver wrote the song about his stepdad, Hammer McDaniel. "He was a big ol' trucker with the kindest heart you could ever imagine," Kirgan says.
The lyrics incorporate some of the sayings his stepdad was known for, such as "Keep your tires hot," which McDaniel would advise when the roads were icy. McDaniel would also say he was going to ride off into the sunset, a phrase referenced in the song with the line "Point your rig towards the sunset."
Kirgan says he wrote the song on the day of McDaniel's visitation in April 2015. "I was mowing my yard and the lyrics came to my mind. I jumped off the mower, went inside the house then began writing the lyrics and playing the tune. He is missed by many, but his legacy lives on."
Kirgan views singing as worship, he says. "I get to worship my lord and savior Jesus Christ, and he gives me a joyful feeling while doing so." He takes his guitar on the road so he can devote free time to playing and singing. "While I am unloading," he says, "we have to back-flush the lines, and I sing a song my dad wrote because it takes me just the right amount of time to flush my lines."
A company driver for Jim Carnes Trucking, Kirgan runs mostly regionally but occasionally over the road or locally. "While pulling tanker, my schedule is up early to hook up, go deliver, then get back so I can go again the next day," he says. He occasionally spends a night or two on the road.
Judges will pick three finalists this summer. The Trucker Talent Search culminates in late August with an online broadcast of each finalist performing an additional song to compete for the top prize, which is a day's recording session at a Nashville studio. The winner also will be profiled in Overdrive.
The online event will be part of Overdrive's GATS Week, when major events that had been scheduled for the Great American Trucking Show in Dallas will be held as virtual evening events Aug. 24-28. More details will be announced.