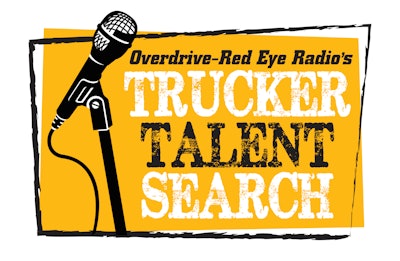 The seventh annual Overdrive-Red Eye Radio Trucker Talent Search has announced the judging panel that will determine the winner, who will receive a day's recording session in Nashville, Tennessee, and will be profiled in Overdrive.
The judges will be professional musicians Jayne Denham and Watermelon Slim, Tim Walker, a vice president with Red Eye Radio owner Westwood One, and Max Heine, Overdrive editorial director.
The finalists are truckers Freddy French, John Malayter and Paul Cullers. They'll compete at 8 p.m. EST Aug. 28 in a contest finale streamed on Overdrive's Facebook Live channel. That event is one of six scheduled as part of Overdrive's GATS Week, Aug. 24-28, a series of Overdrive events being produced virtually after the Great American Trucking Show was canceled due to coronavirus concerns.
Denham has been a frequent performer at GATS in recent years. Many of her songs, such as "Stacks" and "Black Coffee & White Lines," are about trucking.
Former trucker William P. (Bill) Homans III records under the name Watermelon Slim, the handle he used when he was trucking. His recordings include trucking songs such as "Blue Freightliner" and "Scalemaster Blues."
The contest received nearly 50 entries from talented truckers who love to sing. A panel of judges reviewed all the entries, and Overdrive featured 10 semi-finalists before the judges selected three finalists:
Paul Cullers of Dayton, Ohio, submitted an a cappella rendition of Chris Stapleton's "Tennessee Whiskey," saying it's a soulful country song that fits his voice well. The over-the-road trucker does get home on the weekends "for the most part," he says, but when his wheels are rolling, he's singing. "Sometimes I sing with a local band" when home.
The Ashley Distribution company driver sees singing as a gift from God. He has an "understanding that [God] didn't give this gift to everyone and for that I give him praise. Singing is something I've done from the age of 5 so it is a part of who I am."
---
John Malayter of Rogersville, Tennessee, submitted his original song "I've Only Known You for 18 Years," which he says is about feeling like his daughter has been growing up too quickly. "I had the majority of these words sitting around for the last couple of years. But coming home one recent weekend and catching up with my family in the kitchen, the rest of the words came to me."
The Jordan Carriers company driver has been trucking for three years, hauling mostly construction materials and steel on a flatbed. He's out Monday through Friday and home on the weekends. "Being by myself for the majority of the week gives me plenty of opportunity to play and rehearse. I do it because I simply cannot not do it," Malayter says.
He says his guitar is always by his side in the truck. "It gives me the chance to write whenever I feel the need."
---
Freddy French of Addison, Illinois, has been playing music since he was 12 years old. The singer-songwriter submitted a video of "White Sheets" for this year's contest. The song is "an original I wrote about the troubles in our country," he says.
French owns a canary yellow 2015 Peterbilt 579, which he drives for D&E Transport out of Clearwater, Minnesota. He runs all 48 states and Canada, pulling a Conestoga flatbed.
A multi-instrumentalist, French plays six-string electric, acoustic 12-string and lead electric guitar. He also plays bouzouki, and electric and upright bass. "I love the way that music makes me feel as well how it can heal your soul," French says. "I love it when someone finds something in my music that heals them or they can relate to."