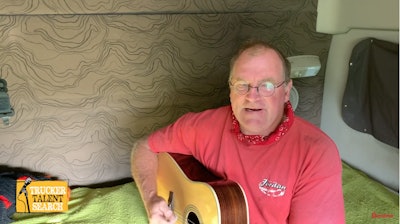 The annual finale of the Trucker Talent Search contest, usually held live at the Great American Trucking Show in a sing-off style competition, took place Friday night in a virtual event on Overdrive's Facebook page on the closing night of Overdrive's GATS Week series of online events.
The finalists, all three full-time truck drivers, included Paul Cullers, Freddy French and John Malayter.
Malayter won the 2020 Trucker Talent Search with a performance of his original "Take Me Back to Tennessee," earning a daylong recording session at Jay's Place in Nashville. See all three performances below, which include Cullers' rendition of Lionel Ritchie's "Easy" and French's original "White Sheets." The 2020 contest received nearly 50 entries from truckers who love to sing. A panel of judges reviewed all the entries, and Overdrive featured 10 semi-finalists before selecting the three finalists.