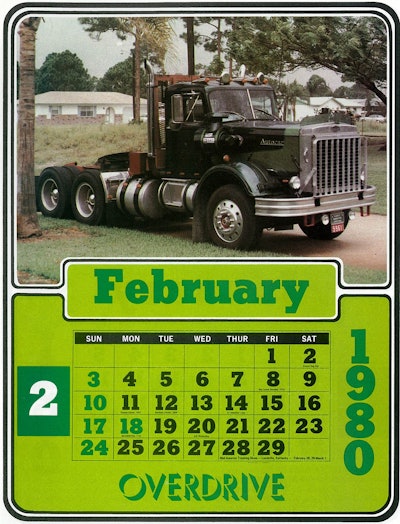 In its January 1980 issue, Overdrive included a 12-month calendar of truck beauties — modern trucks, antiques, American and European — like others in the photo galleries already on OverdriveRetro.
Although no photographer is credited for any of the 12 photos, the trucks are set in real life backgrounds, no doubt where their freight was regularly unloaded or in truck stops where their owners bought coffee and diesel fuel.
The one shown here, from February, is a 1972 Autocar A 64 B. It was owned by Rick Lance, who was based in Orlando, Fla., and hauled heavy equipment statewide.
In the next several weeks, all 12 calendars will be featured on OverdriveRetro and their owners identified. If anyone recognizes or owns one of the trucks, please call me at (205) 248-1080 or email me, Lucinda Coulter, at LCoulter@rrpub.com. Or just post a note to OverdriveRetro's facebook page. I look forward to hearing from you.