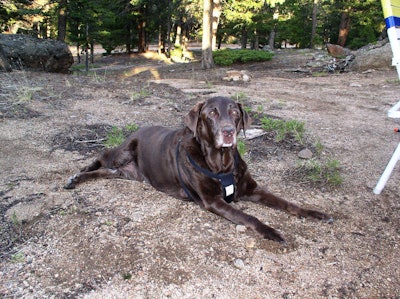 If you're an animal-loving trucker, you may have had one of those sad mornings when you had to climb into your rig and face the road alone after a long-loved pet lived all the years he or she could muster.
If you're like Linda Longton, Overdrive's senior vice president for editorial and research, you started all over again – maybe still in mourning from your loss and maybe not even intending to do so – with a tail-wagging puppy and seemingly boundless energy.
Longton's insight on the importance of in-cab dogs is chronicled in a June 2008 column she wrote. It was soon after her chocolate Labrador retriever, Abby Jo, died on a family road trip. The March 25 OverdriveRetro feature refers to Longton's experience as well as a roundup of dogs that have been subjects of Overdrive stories.
Dogs and pets play such key parts in truckers' well-being, OverdriveRetro that is sponsoring a contest for the best dog stories and memories about truckers' favorite in-cab companion or stay-at-home dogs. After four months, prizes will be awarded for what editors judge as some of the most poignant or entertaining accounts. Photos of your dogs included with the stories will make them even better. More details and contest promotions will follow.
For starters – one poignant anecdote is that of Longton's new puppy, Clara Lorraine Longton. Overdrive's vice president and her husband went for a walk to cope with loneliness soon after they got back home from their trip – without Abby Jo. While out, they saw a neighbor who mentioned that his British Lab had just had puppies.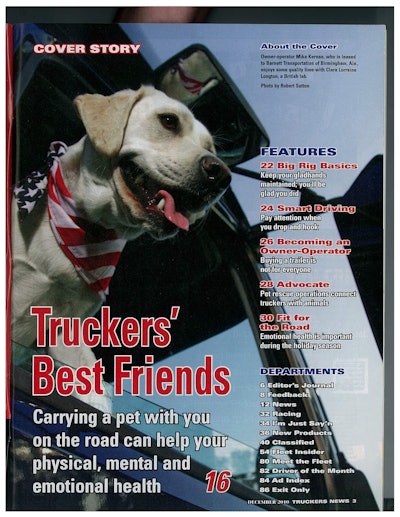 Suddenly, photos of a tiny white Labrador were circulating Overdrive's editorial offices, and at editorial retreats at Longton's home, editors were cooing at (and dodging the energetic tail of) an enthusiastically cheerful pup. Photographer Robert Sutton captured this pose of Clara on Truckers News' December 2010 issue. "She'll never replace Abby Jo in our hearts, but she shares Abby's love of the road," Longton says of Clara, who turned three recently.
Readers may enjoy finding out about truckers' special dogs and their most treasured antics, heroic rescues and just plain happy memories of their in-cab navigators and, once in a while, best friends. Write to me at LCoulter@rrpub.com and send in those stories.