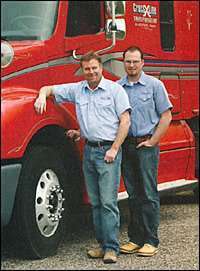 On Jan. 18, 2013, small fleet owner-operator Douglas Bench (left, with son Zach) of Blackfoot, Idaho, lost his battle with cancer at the age of 45. Bench's refrigerated fleet, Ankle Pik Trucking (DBA CrossLine Transportation), takes its name from a unique move Bench developed as a wrestler, according to an obituary published in the Idaho Falls Post-Register. Former Overdrive Senior Editor Max Kvidera, also recently deceased, interviewed Bench for "The two-truck transition," a story about independent businesses' expansion efforts.
Trucking writer and small-fleet consultant Timothy Brady counted Bench as a "close friend," he says, noting he leaves behind a strong business as monument to his life. "They have 18 owner-operators and work with other small carriers running potatoes to all corners of the U.S.," Brady says. "Doug was a trucker's trucker. He believed to the depths of his soul that, given opportunity, along with knowledge of how the business of trucking worked, and then paid a fair rate," truckers would have all they "needed to be successful. The result is Ankle Pik: his dream fulfilled."
He left behind his wife, Jennifer, four sons, two daughters and many other family members besides.
"Doug was my very first student and client over 12 years ago," says Brady, "and I worked with him to achieve his dream of building the trucking company that would be left to three sons [Zach, Kaleb and Brock]. The passing of the torch has occurred far earlier than Doug or anyone wanted, though…. I'm honored to have been a close friend of Doug's, and his friendship will be sorely missed. But his love of humanity and love of trucking will be the legacy he leaves with all of us."