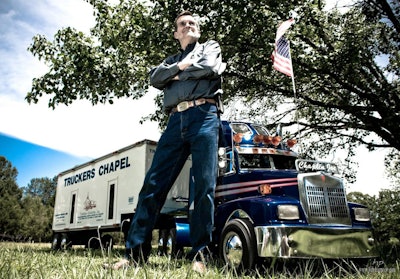 The Rev. Joe Hunter – better known in trucking circles as "Chaplain Joe" and as the founder and president of Truckstop Ministries – passed away Thursday, July 26, in hospice care in his hometown of Jackson, Georgia, at the age of 70.
Since founding the ministry in 1981 after 20 years as an over-the-road trucker, Chaplain Joe established 74 chapels at truck stops in 28 states across the country. Before his career as a truck driver and minister, he served in the U.S. Army in Vietnam, where he also drove a truck.
According to a biography on the ministry's website, Chaplain Joe went to what was then the Truck Stops of America location in Conley, Georgia, and was given permission to conduct a Bible study to see what would happen. From there, he was able to establish chapels at truck stops across the country.
He was diagnosed with Stage 4 lung cancer in 2016 and had been battling the disease since. According to a post on the ministry's Facebook page, he passed away in his sleep.
"It was described by his family as a very peaceful passing; he was not in any pain," the post states.
His funeral was held Sunday in Jackson, Georgia, and a convoy was organized for Monday morning to transport Chaplain Joe from Jackson to Milledgeville, Georgia, where he is being interred.
Chaplain Joe is survived by his wife, Janice T. Hunter; son, Joey (Trina) Hunter; daughter, Julie (Graham) Lansford; grandchildren, Tyler and Jessica Downs, Travis Dows, Kaylee Hunter, Josie Hunter, Gabriella Harnage, Aliyah Harnage, Bradley Hunter, Julianna Harnage, Sarah Harnage; great-grandson, Tate David Downs; brother, Harold (Peggy) Hunter; and several nieces and nephews.
The aforementioned Facebook post notes Truckstop Ministries "will continue its mission of sharing the gospel of Jesus Christ with America's truck drivers, 'without missing a beat,' as Chaplain Joe wanted."