Truckers deserve thanks
After working as a paralegal and manager stuck in an office for 20 years, I joined my owner-operator husband Vince Connell, as a passenger on his runs hauling Broadway show equipment for Clark Transfer. Here's some of what I learned while riding with him.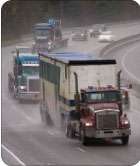 Chivalry is alive and well in truck stops. They are clean and safe, the showers are full-fledged bathrooms, and many of the employees are noticeably nice. Truck drivers make maneuvering a tractor-trailer through rush hour traffic in Los Angeles, over mountains, through rain and snow and backing into small loading docks look way easier than it really is. Night driving is not as easy as it seems, but watching the sun rise is amazing.
Driving a tractor-trailer is a tough job, and those who do it every day so that others can have food, clothing and entertainment don't get the credit they so dearly deserve. Drivers are away from home for days, weeks and even months and maneuver through traffic and construction zones while being paid by the mile.
My thanks to all these men and women. You are awesome in my eyes.
JOAN DUGGAN CONNELL, Columbus, Ohio
"It will save a lot of pollution, save our motors, and when you sleep you won't be choking from all the smoke."
— Trucker Gurcharan Singh Banwait in a Portland Press Herald story about Maine's first electrifiedtruck stop, scheduled to open next year.
How much did you pay out of pocket for health care last year?

"I got lucky and avoided getting sick. Werner does offer an insurance plan."
JOHN STEFFY, Pensacola, Fla. | Werner
"I take medicine for high blood pressure and that comes out of my pocket all year. I am not insured. My medicine costs me $100 a month."
JUAN HERNANDEZ, Del Rio, Texas | leased to Bryan's Express
"I paid about $15,000 to insure me and my little boy."
BILLY LOGAN, Greenville, Texas, leased to National Carriers
"I've got government insurance from the military. I'm a Vietnam vet. I've got disability, too, so that pays for everything."
TOM KUTCHEY, Romeo, Mich. | Swift
"I paid probably right around $1,400 or $1,500, and most of that was just medicine. That's not even considering doctor bills."
MICHAEL KIKER, Mooresville, N.C. | Melton