Lending a hand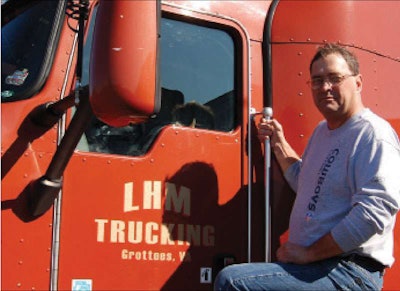 Through the years, Luther Martin has built his trucking career on accountability, dependability and helping others.
It was only $28 worth of gas, but the young man Luther Martin ran into in 2004 at a gas station in Waynesboro, Va., didn't have the money to pay for it. Martin heard him talking to his mom on the phone, telling her he was in trouble.
Martin walked inside, talked to the cashier and paid the guy's bill. Before he left, Martin wrote down his address on a piece of paper and handed it to the young man. "I told him if his mom can afford to pay me, fine. If not, that's fine, too."
She did, and, every year since, she's included him in her Christmas card list.
Martin, 55, says he would probably cringe if he knew how much he had given to people in need on the road – providing hotel rooms, fuel money, food and rides.
But he says that's just his nature. "You can't knock someone because they're having bad luck," he says. "You won't miss what you've given that goes to helping people."
Martin started trucking 26 years ago and for the last 19 has been an owner-operator. Needing a job in a bad economy in 1983, Martin, with the help of a friend, found work as a company driver at North and South Truck Lines in Virginia.
By 1990 he had bought a 1985 cabover Mack and leased to the company. After new management came and cut pay for leased operators, Martin moved on.
After a few months of hauling poultry for Hartman Trucking, Martin found a dedicated run leased to May Trucking carrying Coors beer from Elkton, Va., to Scranton, Pa.
In 2005, after 13 years with May, he and his wife Trish moved to Edinburg, Texas, to be close to their daughter. Since then, Martin has hauled produce in his 2005 Kenworth T600 under his own authority from Texas to the Northeast and fresh poultry from Virginia to Texas.
Martin says running a successful business is a battle fought on several fronts. To cut costs in recent years, he says he runs tires longer, stretches oil changes further and sleeps in his truck more.
"Sometimes you have to do things you don't want to do," Martin says. "You really have to understand what it costs to operate your truck and figure your cost per mile if you hope to survive in today's economy."
Accountability and dependability build a reputation, Martin says. "I think you must provide dependable service, follow through on your word and deliver the product on time."
These traits are surely not lost on Martin, says Rick Blizzard, a longtime friend and business partner: "Luther's just your type of owner-operator that's very dependable. My advice [in trucking] is to do what you say you're going to do, and Luther really exemplifies that. It really sets him apart."
Blizzard, Martin's main broker, says the owner-operator's drive to succeed stems from his determination. "When fuel was $5 a gallon, we were all sitting around here pissing and moaning, but Luther still ran all the loads we needed him to do," he says. "He's determined to make it."
Martin says his wife helps him keep the business's accounting. "I married a math person. She's a genius. She's the most organized person I know in my life."
With her help, Martin's company netted about $81,000 in 2009.
He says that providing for his family, however, is only part of the picture. To spend time with his brother and other family members in 2004 and 2005, Martin took on the task of training for and running in six marathons.
Before leaving for Scranton each morning, Martin woke up at midnight to run and train. He averaged between 40 and 50 miles a week, he says. He and his brother ran marathons in Austin, Texas; Richmond, Va.; New York City, San Diego and San Francisco. The standout highlight was the 26.2-mile trek through Paris, France.
As for the trucking industry, Martin says professionalism and customer service will help improve the image of commercial drivers. Being courteous on the roads, maintaining clean equipment and a clean, professional appearance show the public truckers take pride in their work.
"Often the industry has failed to fully educate drivers, so a few unprofessional drivers have cost us all in the long run with more regulations, higher fines and a poor public opinion," he says.
To mend the trucking woes of the day, Martin says, truckers must do their part. Power in numbers might be the key, he says.
"Who do we blame? We can blame a lot on ourselves," he says. "We might be able to get organized one day." n
Trucker trivia
RUNNING THROUGH the streets of Paris during the Paris Marathon in 2005, Martin says he ran past every attraction and monument the city offers, including the Eiffel Tower. "It was an amazing run. You name it, we saw it," Martin says.
TAGGING ALONG on the ship that carried his son's military unit from Hawaii to the mainland upon the soldiers' return from north Africa several years ago was one of the best things he's done in his life, Martin says. He and his wife – and the parents of the other soldiers – accompanied the unit.
Martin Luther
1972: Drove first truck working at a warehouse
1974: Married Patricia Ann Fitzgerald
1976: Son Jerimy is born
1983: Daughter Amy is born
1983: Started driving F-Model Mack as company driver at North and South Truck Lines
1990: Bought a 1985 Mack cabover, started LHM Trucking Inc., and leased to North and South.
1995: Purchased CH600 Mack
2000: Purchased 1995 Western Star
2005: Purchased 2005 T600 Kenworth, acquired own authority, moved to Edinburg, Texas

WATCH Luther Martin at OverdriveOnline.com.
DO YOU KNOW an exemplary owner-operator with 15 years of trucking experience and an excellent safety record? Write to Lucinda Coulter, Overdrive, P.O. Box 3187, Tuscaloosa, AL 35403, or e-mail lcoulter@rrpub.com.