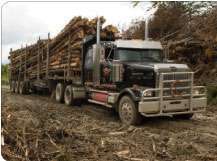 Battery-powered prank
Maine North Woods log-hauling families and friendly rivals the Pelletiers and Crawfords are known for their success. The former is recognized for being on the Discovery Channel's American Loggers series; the Crawfords for their "Crawfordized," decked-out trucks, complete with battery-powered, illuminated capital C on the grilles.
When the Pelletiers adorned the second-floor patio of their in-progress Pelletier Logging Family Restaurant Bar & Grill in Millinocket with the shell of their patriarch's original Mack in March, someone late one night hung an illuminated C on the Mack's grille, reported the Bangor Daily News. Crawford fleet owner Robin Crawford Jr. reportedly texted Eldon Pelletier the next morning: "Do you have a battery I can borrow?"

Musicians jazzed about Jazzy
Just west of Dickson, Tenn., Jasmine "Jazzy" Jordan in March passed the 2,000-mile mark on her cross-country run to benefit the St. Christopher Truckers Development & Relief Fund and highlight drivers' health care and insurance needs. Trucking team Jan and James McCarter, at the request of Jazzy's father, subsequently penned a song, "Thank You, Jazzy." The crew at Johnny Neel's Straight-Up Sound Studio in Nashville produced a singalong choral treatment you can hear at the McCarters' site: thekeystruckers.com. You can also buy the tune there or on iTunes, with proceeds benefiting the fund.
Catch a video interview with Lee and Jazzy, as well as Channel 19 writer Todd Dills' run through Nashville with Jordan at Overdrive Videos at OverdriveOnline.com.

You've gotta watch 'gotta go'
CleanWaste showed a new urine bag, the Pee-Wee, at a truck stop trade show in Las Vegas this year. The unisex bag gels and deodorizes urine while natural enzymes begin breakdown. When the product was launched at the Outdoor Retailer Summer Market last year, the company invited attendees to share their wackiest "Gotta Go Moments" to win a portable toilet. Company rep Betty Vander Vos says to keep an eye on GoCleanwaste.com in May for video that includes stories on a traffic backup on the Golden Gate Bridge, a "wildlife moment" in a National Park and much more.

Highlighting cargo theft
The Rock Hill, S.C., Herald newspaper reported that a locked trailer was burglarized at the Lake Marian Truck Stop on U.S. 21 at I-77. Bandits made off with $28,000 worth of green highlighters, prompting reporter Kimberly Dick to question the thieves' intent. In response, readers commenting at the paper's website joked about marathon fume huffing sessions. Another quipped that the thief "was an avid reader of the Rock Hill Herald" who needed to highlight mistakes.

Salute from a magic man
" There are many homeless people out there," says Cartersville, Ga., resident Michael Mooney, who "owes his career to truckers" after a long period down on his luck. "Truckers' kindheartedness, generally, allowed me to get back on my feet." The magician and performer (mooneyentertainment.com) can often be found at the Cartersville T/A performing for drivers gratis, or offering a ride to Walmart nearby or elsewhere. "I've taken guys 100 miles to the Freightliner dealership to get a part for the truck," Mooney says. "They were good to me back when, so I'm trying to return the favor. "
For your daily dose of trucking humor, oddities and coverage in the media, visit: OverdriveOnline.com/channel19.
SEND US STUFF
Overdrive, 3200 Rice Mine Road N.E., Tuscaloosa, AL 35406, or e-mail tdills@rrpub.com.