A strong finish

Ex-racer Mike Davis employs maintenance skills, financial prowess and good discipline to build a long, safe career.
Owner-operator Mike Davis, 69, has clocked 5.5 million accident-free miles, a level of safety very few owner-operators achieve. Many of these miles were logged with his 2003 Kenworth T600, which he maintains largely by himself with skills he once used to pursue another passion: building and racing stock cars.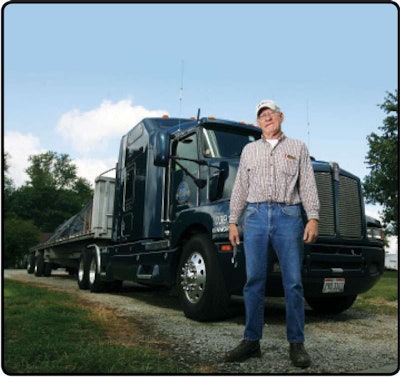 The Coshocton, Ohio, native and resident's eight-year association with the racetrack didn't sideline a long career in trucking that began in 1961, when he did some vocational driving, and developed to include winning industry driving awards.
Davis' longtime love of racing found new expression when he and brother-in-law Jack Babenberg, a mechanic, visited a local raceway pit. "We said, 'We could do this,' " Davis recalls. "At that time you could pretty much go to the junkyard and build your own car."
They began with the frame and assembled a car, first building a '70 Chevalier, then a '72 or '73 Cameron before buying a '76 Cameron. He raced at regional dirt track races between 1970 and 1978. His first race was intimidating. "I was a fish out of water," he recalls.
Davis was Track Champion of the Year a few times, given to the driver with the most racing points, and was voted Most Popular Driver several times. He once raced against the late Butch Hartman, a USAC champion, though Davis didn't win.
Racing's reward was "when you finish, and especially if you win," he says. "Our crew would celebrate at the garage. Or when a kid asks for your autograph."
Davis used to "eat, drink and sleep" racing, but quit in 1978. It took too much money and time, especially with daughters Jami and Jodi growing up.
He first drove trucks while doing regional oilfield work in 1961. In 1963, Davis began working full-time as a company driver, hauling coal and steel, before deciding he wanted to be his own boss in 1967. He bought a Ford F1000 and hauled steel mill products.
Davis, who netted $60,000 last year, attributes much of his financial success to planning, avoiding debt and holding down costs. He buys in bulk when he finds a good deal.
He attributes his 7.3 miles per gallon to using low rolling resistance tires, running an auxiliary power unit, cruising at 58-60 mph and avoiding quick acceleration. "I pretend there is an egg between my foot and the accelerator," he says.
His business savvy has helped in other ways. In 1969, Davis bought a garage to work on his truck, and began buying rental property. Now he rents out two additional garages, a mobile home and parking for other truckers.
As for safety, Davis credits concentration behind the wheel, maintaining distance from other vehicles and keeping up on safety information. He's proven his dependability at Ohio-based Ace Doran & Rigging, where he's been leased since 1980 and often hauls steel or bricks on his 2005 Ravens flatbed. Terminal manager Terry Erny described him to the Ohio Trucking Association, which voted Davis 2001 Driver of the Year, as "the most purposed owner-operator I have ever encountered."
Davis recalls that during the '60s and '70s, when he was leased to three other carriers, truck stops usually had communal showers, where wallet theft was not uncommon. Calling his family meant finding a pay phone and often waiting to use it.
"I was lost all the time," he says. "I didn't know anybody, and it was pretty lonely out there. It took a year to get comfortable on how to get in and out of the mills."
His baptism-by-fire start might be part of his motivation to help other truckers. Fellow leased Ace Doran operator Lance Weaver described Davis' mentoring when he nominated him last year for Truckload Carriers Association Owner-Operator of the Year.
"There are so many dynamic aspects involved with trucking and many hard lessons to be learned," Weaver said. "Fortunately for me, I became acquainted with Mike Davis early in my career." Davis gave him tips in routing, securement and finances. Weaver followed his mentor's meticulous habits and saved significant time and money.
Daniel Doran, Ace Doran president, noted Davis' claim-free company record in his TCA nomination letter. "He is known and respected for his honesty, integrity and hard work," Doran said.
When he needs a good break from that hard work, he takes annual vacations with Shirley, his wife of 41 years, who keeps his books and bakes part-time for local schools. They especially enjoy San Francisco and Lake Tahoe.
Davis says he expects to retire in a year or two, then do truck repair and maintenance part time at his garage.
Trucking's freedom and travel have kept him happy on the job, as does the enjoyment of a job well done. "I like to do something and get it over with," he says. "It's a tremendous accomplishment. I can put a period after it."
Mike Davis
1941: Born July 15.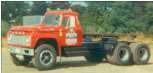 1959: Graduated from Coshocton High School.
1963: Began as a company driver.
1967: Became an owner-operator.
1969: Bought a garage to service equipment.
1969: Married hometown girlfriend Shirley Crowthers.
1970: Began building stock cars and racing them.
1970-73: Daughters Jami and Jodi were born.
2001: Named Ohio Trucking Association Driver of the Year.
2006: Named National Safety Council's Joseph M. Kaplan Safe Driver of the Year.
2007: Named Specialized Carriers & Rigging Association Driver of the Year.
Trucker trivia
DAVIS HAS INVESTED in mutual funds and stocks since 1980. He's often listened to financial radio programs, including Bob Brinker's "MoneyTalk" and averaged better than a 6 percent annual return on his investment. "Research is a lot of work," Davis says. "Many don't have the stomach for it."
DURING THE VIETNAM WAR, Davis hauled a load of steel bombs from York, Pa., to a Crane, Ind., military installation. The empty bombs were free of gunpowder, but covered with a tarp to avoid alarming motorists.