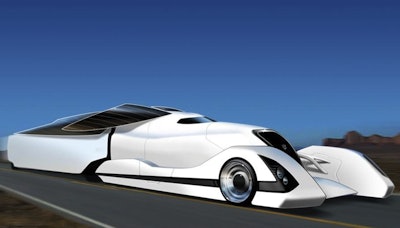 This Volvo aero tractor-trailer concept vehicle drawing, accompanying Overdrive Equipment Editor Jack Roberts' "Path of Least Resistance" feature on growing acceptance of aerodynamic trailers and various add-ons Wed., Nov. 14, drew a trailer boat tail-load of colorful commentary from fans of our Facebook page. "Looks like a cross between Snoopy and a 747," wrote Debbie Desiderato.
"Back that blindside in an alley in Chicago," said Lex Rexroad. "Go ahead. I will be watching."
Others were more appreciative of the concept. "I kinda like it," wrote Robert Kiselak. "There's pros and cons like any other design, though. Higher up, more frontal protection, less side protection though, and maybe a narrower bunk and cab."
Mike Hatcher was also among the latter group. As he put it, quite simply, "I want one of those!"
Find more responses below:
William Stanfield: I want to watch the DOT man check the brake adjustment on this.
John Solliday: Heck, Lee, forget blindside in Chicago. Just place it in NYC or the boroughs, let alone any truck stop in the USA. But I agree with Mike — I want one. Looks like a blast, especially if it'll do triple digits on America's autobahn ( I-75 ).
Mike Hansen: Is it legal in California?
Richard M. Gaskill: I'd like to see the creeper cops' reaction to this one. "Where are all the chicken lights?" It should really be black — the Bat-rig.
Jerry Grossi: I'm aerodynamic… I pull a flatbed.
Joseph C. Morris: It helps sometimes if I tarp really tight.
M. Rick Richards: I've noticed when I'm behind a trailer that has the "tail" or "sled" under it, I don't feel as much buffeting, so the air is moving around the trailer more smoothly. I haven't noticed if side skirts reduce buffeting.
Norma Bradford: I am a Pete girl all the way. And when I am not, Kenworth is the only other choice out there. I usually hate concept trucks, but I think I would drive this one.