Editor's note: This story earned John Forker a brand new Magellan RC9270T-LM as part of our GPS giveaway contest.
I once got lost in Clarksville, W.V., and it was an awful experience with a good outcome. I was in a Kenworth W-900, 290-inch wheel base tractor with a 53-foot spread axle reefer.
I had "directions" from the broker that turned out to be worthless. As I approached the road I was told I needed to turn on, I could see it was going to be a tight turn, so I swung the old KW way out and eased into the turn. I got around the corner and proceeded down what I thought was the street I was suppose to be on. Well, I no sooner got the truck straightened out and I saw a sign that said "NO TRUCKS."
I stopped and looked at the possibility of backing out of there — back onto the road I had been on … not an option, so I said to myself, here goes nothing! I should have backed out of there! As I proceeded down this road, I came up on an S-curve, which I just made it through with my spread all over the sidewalk. I kept proceeding, and to my dismay the road began to narrow. I'm thinking to myself, Lord just get me out of here without hitting anything!
So I go on, and this road is getting smaller and smaller, and just when things couldn't get any worse, they do. People park their cars on this street, on both sides and here I come! You talk about a tight fit, believe me when I tell you, I got out of my truck about 30 times to make sure I would fit between cars! Did I mention it was 1:30 a.m.? Or that I was driving a truck with straight pipes and a 600 Cat under the hood?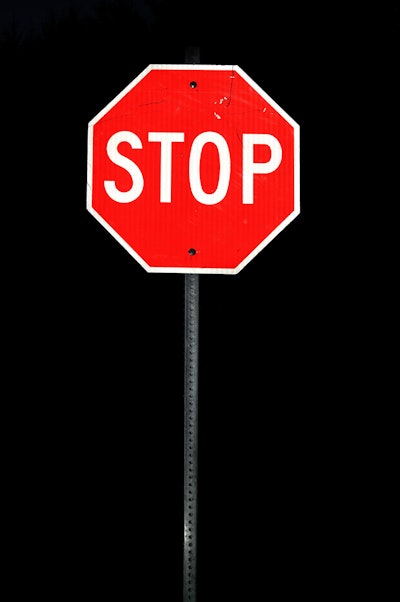 Well, by this time I am frazzled so I figure I need some help to get out of here. So I call the house and wake Momma up, and I begin to explain to her my dilemma. Well between the snickering and comments to the effect of "dumb ass," I finally got her to stop laughing at me and fire up the computer. She located where I was and began to guide me out of there. Just as I came up to a T-intersection, she told me to make a right, and that would put me back on the main road. I gave a sigh of relief and headed toward my escape.
As I came up over the hill, I saw the intersection and said "oh, crap." To my dismay, there was a stop sign on the corner, a parked car on the opposite side of the intersection and a fire hydrant on the driver's side. So I hit my pin popper, slid the spread as far up as I could, began to dolly down so I could slide my fifth wheel up, and that's when it started.
All of a sudden, lights in houses started to come on, and it really didn't dawn on me that I would create a major thing, but I did. So, I began to try and get the old girl around the corner. I backed up and got as far over as I could, to the point of getting all the way up on the side walk. I tried this for about 15-20 minutes. Now mind you, the whole time my smart aleck wife is on the phone in my ear going, "Well, you out yet?" I was oblivious to the crowd that had gathered, and it wasn't until I got out of the truck to rethink my strategy that I noticed there were 35 or more people gathered in night gowns and bedroom attire all standing around watching!
I had been concentrating on not putting the stop sign into the side of my trailer, that I hadn't seen the crowd gather. As I stepped out of the truck, an older gentleman comes up to me and asks me in an accent, "Y'll stuck?" Well, by this point I was out of options, because I couldn't get around the the stop sign with my trailer, and I couldn't back up, so I told him, "Well, yes sir, I am." He began to explain to me that the law was on its way and they would help me out of there.
Now in my mind, I'm thinking to myself, "Oh crap, here come the tickets!" So I get back in the truck and begin to try and see if I can cut to the inside of the stop sign and get out that way. As I get back in the truck, I see a family with children, and they have a bowl of popcorn and bottles of pop sitting on the wall. I thought to myself, these people don't get out much!
Well, the local Barney Fife shows up, he sees my situation, and tells me the local sheriff is on his way, but if I want to try and go around the corner, he will watch for me. I explain to him that I have been trying that for 15-20 minutes and I can't clear the stop sign. I also showed him my tracks where I tried to cut on the other side of the sign but couldn't make it that way either.
To make a long story longer, the sheriff shows up, the state patrol shows up, and we have one big party going on! The county sheriff wound up calling the city utility worker "Tim" up, getting him out of bed. He showed up about 45 minuted later, cut the stop sign down with a torch, then told me to come over there. I walked over to where he had cut the sign down, and he said to me, "Don't feel bad, driver. You ain't the first one to do this." He proceeded to show me where this sign had been cut down seven times because drivers had gotten stuck down there, hence the no truck allowed sign. To my disbelief, I was never cited, never had to pay for the sign, though I did offer, and the state patrol escorted me to my destination. I was very thankful for such understanding people that turned a bad situation into a block party! I bet those folks still talk about that to this day. I know I will never forget it !