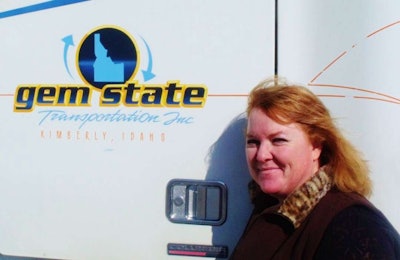 Candy Critchfield has been in one kind of truck or another for as long as she can remember. Raised in an Idaho farm town she describes as "20 miles from nowhere," her backyard was a potato field. She grew up sitting beside her Dad in a truck, working farms and hauling potatoes. A love for the show "B.J. and the Bear" and a desire to become the "Singing Truck Driver" led her to teach herself to drive, and at age 17, she was hauling beets in six-wheel farm trucks. After realizing she couldn't carry a tune in a bucket, she focused on driving, and has been doing it ever since.
For the next 15 years, Critchfield drove every make and model of truck imaginable, from 5/4 to 18 speed, hauling farm loads from fields to warehouses or cellars. She would drive anywhere from a quarter-mile to 100 miles a day, depending on what field she was in and where the produce was going.
As a single mom with three kids, Critchfield really appreciated help from her mother, who moved into her home and took care of the kids while she was away. "I told my mom she would always have a home with me," she says. "She still lives in my home. It's more hers than mine, I guess — she's there a lot more than me!"
In 2008, Critchfield went from working for a private farm to hauling regional produce. "When I first started regional, I was the only female with 18 other drivers," she says. "There was a lot of prejudice and questioning my skills and ability to handle harvest hours. These guys had no idea I was raised driving farm trucks; I was used to harvest schedules."
She was later told by another driver that she actually out-drove most of the guys who were questioning her to begin with. She proved herself without even realizing it. "I pushed it," she says. "But I didn't push it because of them talking, I pushed it because that's my personality."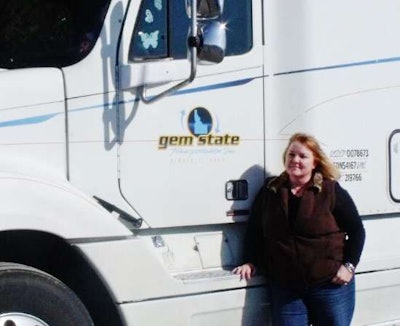 In 2012, Critchfield started hauling over the road for Gem State Transportation, where she was christened with the nickname "The Girl." When she started there she was "one two women drivers," she says, "but somehow I got the nickname and it stuck."
Things have come full circle — today, Critchfield hauls produce from the warehouses she used to drop freight off at to the processing plants like Hunts Point in the Bronx and places like Sysco, who provide food to the service industries. The Girl enjoys her status as an over the road company driver and feels like part of something good. "The boss has a relationship with us," she says. "We matter. I make good money, but it's not really about the money. I feel like part of a family, not just a number."
She enjoys it so much, she often stays out for more than a month at a time.
"They'll get me home whenever I need to get home, they're good about it. I just like being out. My kids are grown. I can enjoy it, and I do."