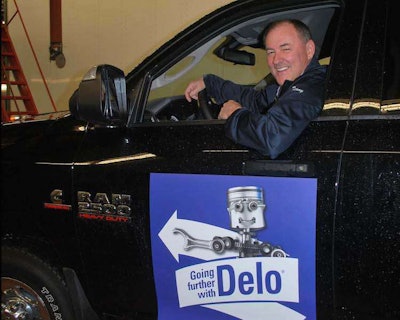 Thursday was a special day for Terry Smith, recently named 2013 Owner-Operator of the Year in the contest produced by the Truckload Carriers Association and Overdrive. Smith and his wife Roxanne Smith were presented with a 2013 Ram 2500 at Moncton Chrysler Jeep Dodge in Moncton, New Brunswick.
That same day Smith was celebrated during a gathering in his honor at the Moncton terminal of SLH Transport. Smith, who lives in Miramichi, New Brunswick, is leased to SLH, which is based in Kingston, Ontario.
In addition to the Cummins-powered truck, Smith will receive a year's supply of Chevron Delo oil. Delo and Cummins sponsored the contest, as well as the Company Driver of the Year competition. Jack Fielding, who drives for Bison Transport, based in Winnipeg, Manitoba, won that contest and receives the same prizes.
Check OverdriveOnline.com in early May for an in-depth story on Smith, who will also be featured in the May print edition of Overdrive.