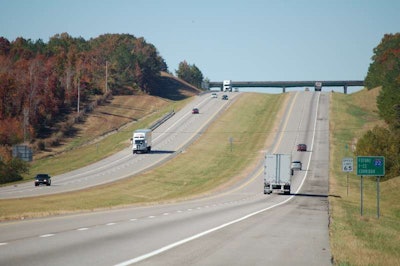 C'mon back, drivers: The most memorable haul of your life? pic.twitter.com/KnoLhbwkKY

— Overdrive Magazine (@OverdriveUpdate) August 30, 2014
We asked the above question over the long weekend — long for most of the country, if not for many of the nation's drivers. (Regular commenter Chauncy London on Overdrive's Facebook page noted the only real difference for him on Labor Day was a relative paucity of motorists with bad driving habits on the road.) While the question has been asked in various forms over the years here and elsewhere, this round's responses yielded no small amount of tales and tall and/or solid in stature. Take a run through some of the best below, and share your own in the comments.
Everett Lee Oker: Going into a California checkpoint on top of Donner. Was asked, "What are you hauling?" Answer: "Sailboat fuel." They said, "Why isn't it placarded?" Then they got it. I got the DOT for awhile. They didn't think that was funny… Learned: Don't play with DOT.
Shelly Crandell: Team driving with my father. Taking an oversize load from California to Idaho. It was the last run we took together before he passed.
Chris Gadarowski: Easy. A four-day, 1,800-mile solo haul of a 44,000-pound load of motor oil, where I was delayed arriving at the shipper half a day with equipment problems, another half-day after product leaked inside and through the trailer, and I used the split-sleeper rule every shift to avoid doing a separate 30-minute break each day. I had to push the arrival at final [destination] out twice, with the eventual ETA set for the absolute latest time without a service failure. And I arrived at final with only 20 minutes to spare on the deadline.
Tyler Simons: I took a load of cattle from California to Gibbon, Neb. I hit a snowstorm at Parley's Canyon, Utah. They shut down I-80 all the way to Cheyenne, Wyo., and I drove secondary roads from Evanston to Kimball, Neb., and still made it with no dead ones.
Cody Blankenship: About half a dozen of us loaded cows in Columbus, N.M., at a set of pens on the N.M./Mexico border. Hit a huge dust storm on the way out… Loaded early evening and came on back to the east side of Dallas in a hurry… We had fun the whole way back, talking and cutting up on the CB. That was 12-plus years ago, the first time I had seen pens like that where half was in Mexico and half on the U.S. side.
Victor D. Martinez: A load of school supplies for a grade school on a rez. The students all came out to help me unload. Each and every one thanked me personally. I still tear up when I think of them.
Jeffrey Green: Temperature-controlled explosives…. Never again.
Joseph McGaughy: A load of ammunition to Chicago, being trailed by someone I never met but knew they were there.
Joel Almazan: A load out of Philly. Cloned money to Jacksonville. I had to load it myself while security was looking through a little window.
Drew Elliott: June last year. Salem, Ore., to Ft. Myers, Fla. Ran into [Tropical Storm] Andrea. Had my daughter with me — her name is Andrea. She loved it.
John Henry: Newport News, Va., to Portland, Ore., hauling fish and shrimp in winter [in a] 379 Pete and a reefer. Awesome.
Ray Bentham: My first load in a 40-foot trailer … from Salem, Ohio. Grossed out at 73,280 lbs. in 1977 — a load of ceramic toilets and bidets to a high-rise construction site in mid-town Manhattan.
Ben Lujin: The oven and costumes for the play Cats. Less than 1,000 lbs. in a 53-foot trailer. Unloaded out front of the playhouse in Cleveland and the road was under construction — I was parked there for like six hours. My first taste of show freight, and not my last.
TJ Barton: Went up Stevens Pass to the west side, roads bare and dry till you hit the climb, then two inches of snow appeared. Barefooted it all the way with a set of doubles past a truck spun out. He had that "you bastard" smile on his face.
Richard Thompson: The very first time I had to chain up on I-70 out of Denver. Scary… Green as can be! Thanks again to the Western Trans. driver who helped me up it!