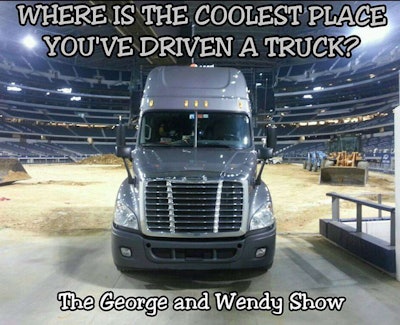 Owner-operator George Parker shared the above meme on the George & Wendy Show Facebook page just over a week back. We shared it subsequently on Overdrive's page, and overall it garnered an array of responses to the question posed at its top. The diversity of responses chronicles the fascinating journey trucking can be, no doubt, and on this fine Saturday I do hope you enjoy running down memory lane with the readers. No doubt you'll recognize some of the spots detailed. Feel free to add your own in the comments here.
Kathy McGovern Kowitz: MGM Grand in Vegas to deliver Paul McCartney's LED sign for the I Heart Radio concert last year.
Chris Thomas: Philadelphia Museum of Art (i.e. Rocky), delivered Picasso's "Le Reve" from the Bellagio in Vegas.
Ryan Andrew Bernard: The caves in Missouri. Also delivered next to the Norfolk Navy yard. To Dover AFB: delivered a load of Perdue chicken, likewise a state prison in Rome, N.Y.
Rebecca Lea Blakeney: Angels Stadium in [California]. Monster truck. Got to talk to the Grave Digger guys.
Bill Stokesbary: I delivered to Sports Authority field, home of the Denver Broncos, wearing all of my Raiders gear. Got some real dirty looks.
Jonathan Lewis: I hauled for Monster Jam once and for Pepsi during the Superbowl and got to go underneath the Lucas Oil stadium. It was full of NFL network semis.
Daniel Lund: Under the Mall of America! I delivered a load of salt for the aquarium.
Steven Griffith: Over the Hoover Dam in 1997.
Matthew Fultz: Wanchese, N.C. [On Roanoke] Island off the coast. Beautiful place to drive to.
Richard Young: The coolest place I've ever delivered was a paper mill 'round the corner from my house. Dunn Paper, Port Huron, Mich. Right next to the beach and coast guard housing and lighthouse beach (plus I went home).
Bruce Warren: Loaded out of old Three Rivers Stadium shortly before they imploded it! Some of the best memories with my dad and brothers at Steelers and Pirate games!
Jeff Whitt: Inside the building, third floor, of the U.S. mint Philadelphia with a load of pennies.
Benjamin White: Took a load of insulated pipe to the Pentagon a couple years ago. Talk about a vehicle search!
Catch more of the action (plenty more amazing spots), or share your own, with the original Facebook post on Wendy's page here.