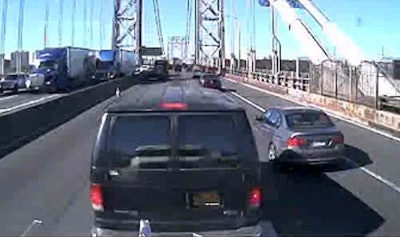 The extreme-brake-check entries are growing in Overdrive's Dashcam Central repository for reader-submitted and other videos of on-highway events. After a video earlier in the year in which trucker Anthony Johnson nearly rear-ended a four-wheeler who "tried to get me to run into the back of them" after passing on the right, Carroll Fulmer Logistics' Risk Manager Josh Fulmer shared a similar incident caught on his company's in-cab cameras on the George Washington Bridge into New York City.
On Oct. 28, 2014, a hard-brake event on the bridge triggered the driver-/road-facing camera in one of Fulmer's trucks to capture a black van cutting hard in front of the truck. It then quickly decelerated for no apparent reason, stopping in a center lane as traffic continued on both sides.
"Our safety department called the [truck] driver," Fulmer says, who had "seen this guy do it to a couple other semis already" that day. "He was ready for it. Things like that, the driver's obviously aware of things going on around him. And it does happen a lot, at least half a dozen in the last year. … Sometimes you make contact, sometimes you don't."
Click here to view more Dashcam Central videos.