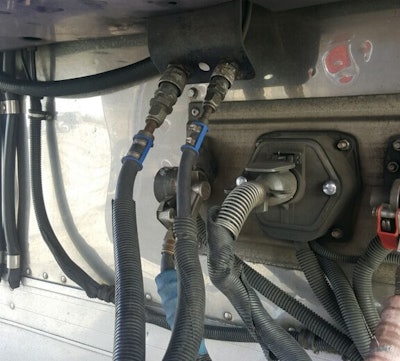 Independent John Jaikes isn't worried about burning more fuel to stay cool in his Kenworth W900L when summer arrives. His cab gets plenty of cold air with help from the Thermoking SB-210 that cools the 2005 Utility reefer he pulls.
Freon from his reefer unit gets pumped into a separate condenser in his sidebox and into the cab's HVAC system.
Jaikes says he can't recall the last name of a man named Mike, who for between $5,500 and $6,000, installed the system. Mike died two years ago, he says.
Jaikes hasn't tried to measure how much the system has reduced his fuel costs, but is positive he's had "tremendous savings."
"A lot of people like the idea, but they don't want to spend the money on it," he says. Another limitation is you have to pull a trailer – the same trailer – all the time or be willing to occasionally forgo cold air.
Operating as Precision Transportation, based in Nanticoke, Pa., Jaikes hauls reefer freight to 48 states.