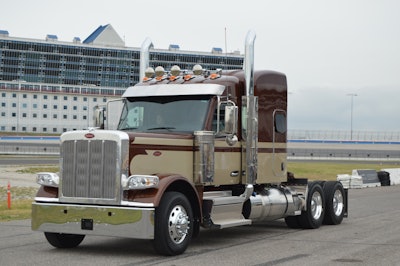 All photos courtesy of Tim Ahlborn
When Peterbilt announced its new 589 model last week, it set off two distinct shockwaves through the trucking and truck-loving worlds: One: the unveiling of Pete's new flagship and an idea of the future of the brand. And two: the news that the beloved truck show standby, the 389, would go the way of the dodo.
Reactions to the 589 varied widely, but a survey from Overdrive showed most readers firmly in the "approve" camp.
Overdrive reached out to owner-ops and Pete lovers of all stripes for comment, and in doing so got something of a history lesson on the beloved brand.
Jorge Castillo Jr. has been driving Peterbilts just about since he was old enough to see over the steering wheel, and his dad bought him an extended hood 379 at the ripe age of 18. That was in 1996. Twenty-seven short years later, he attended the 589 unveiling and took it for a test drive on the track.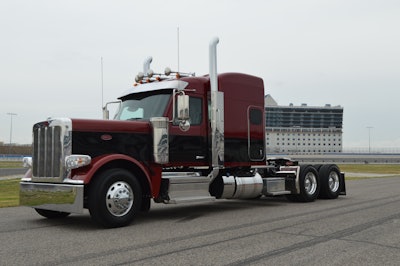 Castillo, still an occasional hauler and now owner of JCT Logistics, a small fleet of Petes, seemed to zero in on the biggest issue most 589 naysayers tend to point out: The cab.
The 589 features a 2.1-meter cab, a bit wider than the 389's 1.9-meter cab. For almost 9% of survey respondents, these few extra inches didn't mean much, as they noted the 589 looks a lot like the 389.
But for Castillo and others who know every inch of every model, it's a bridge too far.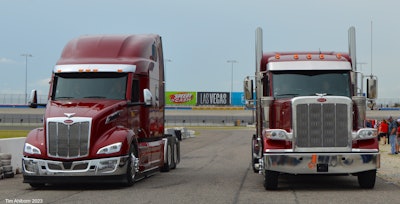 "I think the cab is just way too big for looks purpose," said Castillo. "That's one thing the people go back to with Peterbilt, that's why it's the number one show truck. They just love the cab, that classic look of the cab since 1939."
Castillo isn't a small fellow, but said he still felt lost in the big cab. "I'm not a little guy, but I'm not looking for a big cab. I want to be able to reach my passenger seat and put whatever I want on my passenger seat. I want to be able to reach my passenger door, my glovebox," he said.
But not everyone shares that view. Survey respondent David Jentzsch had the opposite opinion.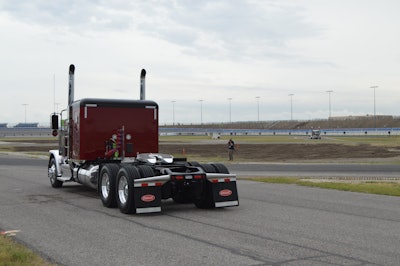 "This truck looks way better than Kenworth's 990. I don't like the KW but this new 589 is a good-looking truck. Blending the 567 cab with the 389 hood works really well," he wrote.
[Related: Scenes from Peterbilt's 'Pride & Class' truck show at Texas Motor Speedway]
For Castillo, he lamented that the bigger cab meant a shorter hood, as the 589 is as long as the 389, just trading about six inches of cab for six inches of hood. "It doesn't look proportionate," he said of the hood. "The cab is just too wide."
But then again, beauty is in the eye of the beholder.
"Everyone was worried about losing the hood," wrote commenter Rick McClerkin on Overdrive's Facebook page. "Now that the hood is not gone people complain about the cab. The Pete 589 is still a beautiful truck. It's always been about looks, now they have added comfort."
Other commenters took issue with how this truck fits into the brand's legacy.
"Putting a long nose on a 567 isn't gonna fly with a lot of old-school guys," wrote commenter Marlin Marengere. "Air clutch, crooked shifter, digital dash, one-piece windshield, it's missing all the things that made a Pete a Pete."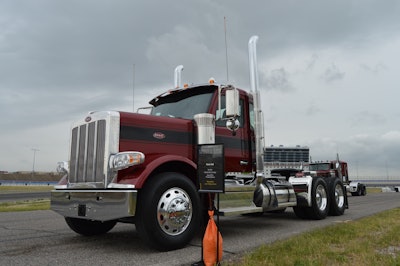 Others also expressed doubts about the all-digital dash and its long-term reliability and safety implications. Plenty of ink was spilled over the single-piece windshield, igniting a debate among brand historians about whether the venerated 389 ever had such glass on it.
Ultimately, it's a matter of opinion, and most people think the single-piece dash looks good. Furthermore, if Peterbilt truly has a legacy, it's built on work as much as looks. So how does the 589 drive?
"It drives really, really nice," said Castillo, who test-drove an automatic model. "I have a 2023 F-250, and that 589 drives just as good as those pickups."
At CCJ, Overdrive's sister site, Chief Editor Jason Cannon called the truck an "instant classic," and praised its performance over a 100-mile drive through North Texas at 65,000 pounds gross. He found the truck comfortable, smooth, and overall a good balance between old and new.
Remember, diesel trucks of any sort remain under attack from industry and activists that would rather we all turn on a dime to "zero emissions" vehicles (ZEVs).
"I think I forgot that truck manufacturers are allowed to roll out new diesel-powered units, especially ones this cool," wrote Cannon.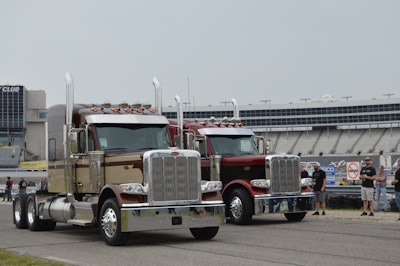 It's worth nothing that the 379 and 389 got much the same treatment when they came out, as Facebook commenter Dee Catt pointed out: "I remember when the 389 came out." Catt wrote. "Everyone was up in arms and hated it because it looked stupid and cheap. The same when the 379 came out. In a few years, people got used to it and now they love them."
Overall, the 589 as it was unveiled earlier this month represents a new platform for Peterbilt lovers to play with. The Peterbilt brand was never cookie cutter, always relying on owner-operators to breathe personality and life into what is, ultimately, just a workhorse.
Tim Ahlborn, a distinguished Peterbilt historian, perhaps said it best in the "Peterbilt 589 Enthusiasts" Facebook group:
"Once actual orders are taken and customers along with 'that salesperson' starts to sort out options and configurations and gets things approved by Applications Engineers, we will start to see some very creative versions of the new truck," Ahlborn wrote. "It just takes The One Customer and Salesman to get the ball rolling."