Officials from heavy-duty engine manufacturers Thursday, Aug. 20, gave an audience of drivers and fleet representatives the latest details concerning cost and performance of their technologies for meeting 2010 engine regulations at the Great American Trucking Show.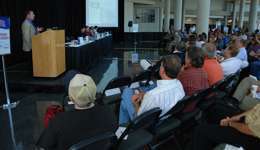 With the exception of Navistar, which is using advanced exhaust gas recirculation, the engine manufacturers are introducing selective catalytic reduction technology to meet the U.S. Environmental Protection Agency's mandate to reduce NOx emissions to 0.2 grams in 2010.
SCR requires the use of diesel exhaust fluid. Navistar plans to meet the requirements in the engine cylinder without an additive.

The 2010 Cummins ISX engines will yield better fuel economy than current engines, said Jason Owens, customer performance technical manager at Cummins. "Our new engines will have a larger 'sweet spot,' resulting in better drivability," he said.
David Siler, director of marketing for Detroit Diesel, also touted improved fuel economy as a big advantage for truck owners with the company's BlueTec technology. "The DD15 will provide fuel economy not seen since the pre-2002 engines," he said.
In addition to improved mileage claims by the engine manufacturers using SCR, David McKenna, director of powertrain sales and marketing for Mack, reported there would be no change in engine hardware under the hood, making the engines "service friendly."
Volvo's engines will show higher horsepower and the bonus of no active regeneration with the 2010 power units, said James Fancher, marketing product manager.
Navistar said its 2010 MaxxForce engines offer truck owners greater simplicity because no new agent will have to be added, as with the use of DEF. "We have a turn-key strategy," said Steve Perkins, senior sales specialist for the Navistar engines. "We take the burden off the customers and put it on us as the manufacturer."