Trucking specific GPS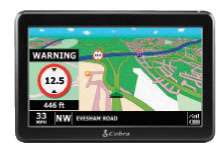 Cobra Electronics' 7700 PRO is a GPS navigation and routing tool tailored to the professional driver. It features a 7-in., 16:9 wide screen and touch-screen control, the company says. The product uses advanced routing information based on the vehicle's dimensions and weight and provides coverage data including STAA National Highway Network and Access Roads, National Bridge Inventory List, National HazMat Route Registry, and detailed truck data for the continental 48 states and Canada. The product also features text-to-speech guidance with loud verbal instructions and turn-by-turn spoken street names.
COBRA, www.cobra.com, (773) 889-3087
Truck sleeper refrigerator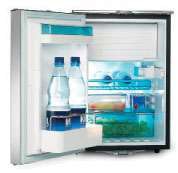 The new CR Series refrigerators incorporate a double-lock door mechanism. When set in the vent position, the refrigerator door is held open slightly for defrosting. The units have an internal full-width freezer compartment with a separate door, a bottle holder, adjustable shelves and racks, an extra-large vegetable bin and a blue interior light. The door can be configured for right or left-hand opening. The door panel comes in black or stainless steel on most models. The refrigerators are powered by a hermetic Danfoss BD35F 12-volt DC compressor and use R134 refrigerant gas.
DOMETIC, (800) 544-4881, www.dometic.com
Pen-sized color scanner
The DocuPen RC800 has 8 megabytes of onboard flash memory. Full-page documents can be scanned in 24-bit color, 12-bit color or monochrome. Powered by a lithium ion battery, the device can be recharged via a USB port. It weighs 2 ounces.
PLANON, (888) 507-3926, www.planon.com
Bend restrictor
Coxreels' new bend restrictor is a hose option that is available on low-pressure hose reels with ¼-in., 3⁄8-in. and ½-in. PVC, rubber and nitrile hose handling 300 psi of working pressure. Bend restrictors are suggested for hose assemblies that might receive substantial usage and are recommended for air, water, oil, fuel and other fluid transfer applications. Bend restrictors are made of PVC.
COXREELS, (800) COXREEL, www.coxreels.com
Temperature monitor
This new GPS unit is designed for users of refrigerated vans. The unit combines traditional business-tracking information, such as location, engine on/off and speed violations, with automatic and on-demand real-time temperature reports and can be configured to send text message and e-mail alerts if thermal readings exceed the range set by managers.
HAAS GPS, https://www.haasgps.com/ (866) 524-4227
Diesel engine oil
Guardol ECT with liquid titanium is an API CJ-4 diesel engine oil, an enhancement to ConocoPhillips' CJ-4 synthetic blend oil.
CONOCO PHILLIPS, www.conocophillipslubricants.com, (281) 293-1000
Ratcheting screwdrivers
Snap-On's ratcheting screwdrivers feature a five-position handle that incorporates design based on transmission ring gear principles. The screwdrivers have solvent-resistant grips with contoured thumb stops and non-magnetic stainless steel shanks. Different shank sizes can be used with the same handle. More than 100 insert bits are available. An in-handle storage compartment holds up to nine standard insert bits.
SNAP-ON, (877) 762-7662, www.snapon.com
Transmission filter
The Outlaw Harv transmission filter and cooler system is designed to increase the life of a transmission. The filter minimizes pulsation that is caused by the pump and minimizes wear to the cooler by keeping temperatures lower, the company says. The filter comes with all brackets, lines and hardware needed for installation. The filter can also be used for cooling fuel.
TruckingTools.com, (760) 599-8567, www.truckingtools.com
Spray-on wax
Nano Wax spray-and-wipe requires no buffing to conceal hairline scratches and swirl marks, the company says. The product can also be used on glass and trim to repel rain and protect those areas.
EAGLE ONE, (800) 432-4531, www.eagleone.com
Multi-task tool
The redesigned super tool, Super Tool 300, has pliers with a sloped neck, new removable wire cutters that can be sharpened or replaced and key areas reinforced with premium 154CM steel. The tool features edge-safety clumping, which keeps sharp-edged tools in place when others are pulled out and keeps all other tools in place when one of the two knives is pulled out. The locks on the device have been strengthened, the company says.
LEATHERMAN, (800) 847-8665, www.leatherman.com
Windshield protectant
BulletProof Autosports' Windshield Protectant windshield glass repair and replacement cuts costs by 50 percent annually, the company says. The micro-polymer spray-on protectant forms a covalent bond to the glass designed to reduce the severity of rock chips, cracks and sandblast pitting, the company says.
BULLETPROOF AUTOSPORTS, (866) 607-3672, www.bulletproofautosports.com
Illuminated toggle switch
The Illuminated-Tip Toggle Switch for trucking applications lights red in the "on" position and white in the "off" position. The toggle switch contains silver contacts to provide switching at 25-amp and 12-volt DC, the company says. The switch comes with blade terminals, nickel-plated brass mounting hardware and the standard 15/32-in., 32-thread mounting stem.
COLE HERSEE, (617) 268-2100, www.colehersee.com
High capacity wheel dolly
The AH-80330 High-Capacity Wireless Wheel Dolly features a battery-operated hydraulic lifting mechanism with a 2,000-lb. lifting capacity for tires up to 53 inches in diameter. The product comes standard with a battery charger. Heavy-duty lift arms with rollers allow rotation of wheels. The platform arms are adjustable corner-to-corner and tilt up and down.
ARI-HETRA, (800) 562-3250, www.ari-hetra.com
Wide base tire
Continental Tire's new HTR2 is an all-position wide-base tire for construction vehicles operating mainly on regional roads. The HTR2 replaces the HTR wide-base tire. The redesigned tire has a wider tread pattern and an increase in tread depth to 22/32 in.. The tire includes Continental's stone ejection system and a reinforced steel core bead. It is available in 385/65R22.5 and 445/65R22.5 sizes.
CONTINENTAL, www.continental-truck.com, (704) 583-8564
DC air conditioner
The Sunspot 5000 in-cab, under-bunk DC air conditioner is a self-contained 12-volt DC air conditioner that delivers 5,000 Btus per hour of cooling capacity. The system works with most under-bunk retrofit applications, the company says.
SUN POWER TECHNOLOGIES, https://www.sunpowertech.com/ (800) 876-6117
Hose fitting
Four Seasons now offers a comprehensive system for building air conditioner hoses in the field for use on most heavy-duty trucks and AG/off road equipment. The system has 71 fitting kits and four different hose sizes in 25-ft. lengths.
FOUR SEASONS, www.4s.com, (718) 392-0200
Remanufactured brake shoes
Alliance Parts and ArvinMeritor have produced a line of remanufactured brake shoes designed for 20,000 and 23,000-pound axle applications. The brakes are made by Arvin Meritor in North America and feature PlatinumShield Advance Shoe Coating, which helps prevent rust jacking, the company says.
ALLIANCE PARTS, www.alliancebrandparts.com
Ratchet strap holder
The Tamer ratchet strap holder has a reel built into the handle to wrap excess webbing into a roll. The user must wrap the webbing up and lock it into place. The ratchet operates the same with the Tamer attached, the company says.
ERICKSON MANUFACTURING, www.ericksonmfg.com, (888) 546-4688
Rear air suspension
HTB LT rear air suspension is available on International ProStar trucks. A non-torque reactive rear air suspension, HTB LT weighs in as the lightest suspension in its class, saving up to 263 pounds compared to industry standard 40,000-lb. suspensions, the company says. The suspension system features cross-member frame hangers and torque rods, direct acting air springs, a centrally placed frame hanger and shock absorber mountings integrated with the torque rod.
HENDRICKSON, (630) 910-2800, www.hendrickson-intl.com