Peterbilt announces two models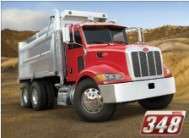 Peterbilt's new Model 348 is designed for Class 7-8 applications that require rugged durability and a wide range of options. The company has also introduced the medium-duty Model 337, which is suited for pickup-and-delivery, beverage and food service vocations. It will replace the Model 335.
The Model 348, replacing the Model 340, has a GVW beginning at 35,000 lbs. and optional capacity ratings to suit most specialty vocations, including those for construction, petroleum refuse and utility. It is available in tractor or straight truck configurations and offers vocational options such as FEPTO, REPTO and application-specific transmissions, including a hybrid configuration designed for utility service. In the hybrid configuration, the Paccar PX-6 engine offers 280 hp, while the Paccar PX-8 engine offers 240-380 hp and provides 1,050 lb.-ft. of torque for heavier loads.
The 348 has a lightweight all-aluminum cab. A lowered and slanted side window beltline increases the view outside the passenger side window, and a lowered dash sightline contributes to a 17 percent improvement in side window visibility. Removable dash panels provide access to electrical and HVAC components. The 348 is available exclusively with air brakes for heavy-duty configurations and a wide range of suspension and vocational options in both single- and tandem-axle configurations.
PETERBILT, www.peterbilt.com
New Coronado versions introduced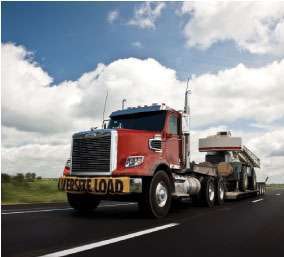 Freightliner has introduced the new Coronado SD, designed for severe duty applications, and an updated on-highway Coronado. Both models come with a choice of four engines: the Detroit Diesel DD13, DD15, DD16 or the Cummins ISX.
The Coronado SD, which will replace the FLD SD, comes with a choice of Eaton and Allison transmissions, and transmission power take-offs are optional. The front axles are rated from 12,000 to 22,000 pounds, and the rear axles have capacities of 23,000 to 70,000 pounds, including TurfTrac rear axle suspension. Tag and pusher axles are available.
The aluminum cab is secured with Henrob rivets, which prevent leaking, has bonded 2-piece windshields and has a chrome-plated aluminum handle on the hood. The dashboard has been redesigned, and a fully equipped sleeper is optional.
The on-highway Coronado features traditional styling, new technology and improved aerodynamics. It has a one-piece fiberglass hood, a stainless steel grille, a chrome-plated handle, new headlights and a two-piece windshield.
Dual chrome steel intakes positioned on either side of the hood are standard on the new model. The aluminum cab has noise panels in the floor, front wall and on the sides and back panel, as well as double-sealed doors. Oregon burl wood trim accents the dashboard.
FREIGHTLINER, http://www.freightlinertrucks.com