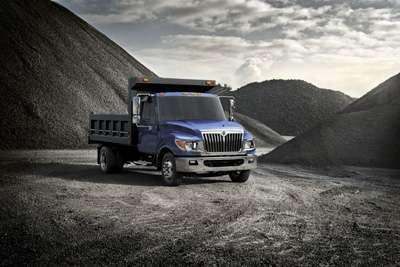 At a press event today, March 10, at the National Truck Equipment Association Work Truck Show, Navistar unveiled the International TerraStar Class 4-5 commercial truck, designed with a wide range of commercial-duty features, including its MaxxForce 7 V-8 diesel engine and a large, roomy cab.
"The International TerraStar comes from the same bloodlines as the rest of our commercial truck lineup," says Jack Allen, president of Navistar's North American Truck Group. "Its commercial-duty design will change the game in the work truck market by offering one of the most capable, most versatile and most drivable trucks in its class."
At the heart of the new TerraStar is its all-new 300 horsepower 6.4-liter MaxxForce 7 V-8 engine, delivering 660 lb.-ft. of torque. The engine features a compacted graphite iron (CGI) block that offers high strength without added weight. The MaxxForce 7 will be matched with a commercial-duty Allison 1000 transmission to optimize its power output.
The TerraStar features MaxxForce Advanced EGR (exhaust gas recirculation) emissions technology, which Navistar says provides a clean and clear chassis for easy body and equipment mounting without adding weight. The TerraStar, built on a strong and durable commercial-duty platform, also is easy to operate thanks to wide visibility, a 107-inch BBC (bumper to back-of-cab) length and a 44-foot curb-to-curb turning radius that offers added maneuverability in even the tightest work environments.
The TerraStar features a commercial-duty truck cab with enough interior space for three adults to fit comfortably in the front seat; optional extended cab or crew cab configurations will be offered. Serviceability is enhanced with a commercial-style tilt-away hood that offers unobstructed access to the engine compartment, making routine and schedule maintenance quick and easy.
The TerraStar also features the International Diamond Logic electrical system, an advanced electrical multiplexing architecture. Diamond Logic maximizes ease of body integration and helps deliver a number of smart, customizable features for added convenience and safety — such as automated pretrip inspections, headlights on with wipers, interlocks, programmable switches and more, depending on the application.
The TerraStar initially will be available with a 4×2 drivetrain, with a 4×4 drivetrain planned for 2011. "The addition of TerraStar gives us a product lineup that can serve virtually any truck need, spanning from Class 4 to Class 8," Allen says.