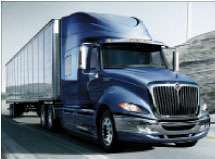 Navistar ProStar+
The new International ProStar+ has improved aerodynamics and a nearly 1,300-lb. weight reduction from the existing ProStar model. The truck is powered by the Advanced EGR MaxxForce 11 and MaxxForce 13 engine. The ProStar+ has a re-engineered overhead console. Cab noise has been reduced 9 percent compared to last year's ProStar. Other improvements include a 20-lb. force reduction in clutch feel, providing easier shifting and less fatigue, the company says. New aerodynamic enhancements include optional full-length chassis skirts for sleepers as well as a new cab roof air fairing for day cab models. ProStar+ also includes a clutched air compressor, variable speed fan, low viscosity engine oil and fuel-efficient rear axle lubricant.
NAVISTAR, www.navistar.com, 800-448-7825

Mack transmission
The mDrive automated manual transmission with automated gear shifting will be available on Pinnacle model highway tractors powered by MP7 and MP8 engines. The mDrive has 12 forward and four reverse speeds, and is available in direct drive or overdrive. It has a torque capacity of 1920 lb.-ft. and a dry weight of 615 pounds. The shifting strategy for mDrive is based on cruise speeds of 1350 to 1450 rpm. The driver interacts with mDrive through a dash-mounted control pad containing manual input and hold shift buttons. The Mack Co-Pilot driver display shows transmission status, including the number of upshifts or downshifts available, the current gear and the current operating mode.
MACK, www.macktrucks.com, (610) 709-3961

Trucking-specific GPS
The IntelliRoute TND 700 truck GPS device has a 7-in. high-definition screen and enhanced software. The company says the new device provides greater mapping detail at each zoom level, a larger viewing screen, additional Trucker Business Tools, enhanced features and 363,000 data updates, when compared with the IntelliRoute TND 500. The TND 700 includes louder-than-normal speakers and custom-designed mounting features.
RAND MCNALLY, www.randmcnally.com, (800) 234-4069

Thermo King introduces three products
The TriPac Electric APU System is an electric auxiliary idle reduction and temperature management system. The T-1000 Spectrum Multi-Temp Unit for Trucks (pictured) is a self-powered multi-temperature unit with scroll compressor technology. Its engine emits 38 percent less particulate matter and 54 percent less carbon monoxide than previous engines, the company says. The SmartPower High Output Electric Standby Option comes in 14-hp or 24-hp versions.
THERMO KING, www.thermoking.com, (205) 591-242

Seat covers
Coveralls seat covers fit high-back seats, mid-back with headrest seats, and seats with or without armrests, with a side cinch-down lacing system. The polyester canvas blend covers are liquid repellant and stain resistant, the company says. Each cover has six elastic pockets for storage.
SEATS INCORPORATED www.seatsinc.com, (800) 443-0615
In-cab freezer/refrigerator
The CDF-11 refrigerator/freezer unit is 91/4 inches wide and 14 inches high, weighs 19 pounds and provides 0.4 cubic feet of storage space. The adjustable digital thermostat can be set to 0-50 degrees Fahrenheit. The compressor-driven CDF-11 runs on 12-volt power and draws approximately 3.75 amps.
DOMETIC, www.dometic.com, (574) 294-2511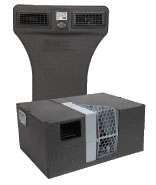 Battery-powered APU
The NITE Phoenix has a large compressor and an LCD digital user interface and battery monitoring system. The California Air Resources Board-approved auxiliary power unit includes onboard service diagnostics, automatic temperature control and a check filter function. A 110-lb. lithium-ion battery provides 16 percent more power than earlier models, with an estimated life of 6 to 8 years.
BERGSTROM, www.bergstrominc.com, (815) 874-7821
SmartWay-approved tire
The M154 tire is now EPA SmartWay-certified as a steer tire when used in a set on a rig equipped with the company's M657 drive tire and M127 free-rolling tire for trailer axles. Two rolling resistance tires are available, the M154 for regional trucking and the M137 for long-haul applications. The M154 is manufactured using the company's e-balance technology, which focuses on a stiffer belt package and stiffer bead construction. The five-rib M154 has a full 22/32-inch tread depth.
TOYO TIRE, www.toyotire.com, (888) 444-8696

Steer tire certified
R287A steer tire for regional and long-haul applications is U.S. Environmental Protection Agency SmartWay-certified and is California Air Resources Board-compliant. The tire has a 16/32-in. tread depth.
BRIDGESTONE, www.bridgestone.com, (800) 543-7522

Hybrid reefer
The 6600MT hybrid trailer refrigeration unit uses diesel-electric technology to deliver 59,000 Btus per hour of cooling capacity at 100 degrees Fahrenheit ambient and a set-point of 35 degrees F. The Vector units share the same body design as Carrier's X2 series units and incorporate impact-resistant DuraShell 2 body panels that open to the top for access to interior components.
CARRIER TRANSICOLD, www.transicold.carrier.com, (205) 328-7278

X One XDA Energy tire
The X One XDA Energy tire has Infini-Coil technology designed to reduce casing growth and stabilize the contact patch. Three-dimensional Matrix sipes lock together for stability. The X One XDA Energy tire is available in size 445/50R22.5, and will replace the X One XDA tire.
MICHELIN, www.michelin.com, (800) 847-3435
14X drive axle
The 14X tandem drive axle's features include a new inter-axle differential and a faster ratio and wider range of axle ratios. Premium amboid design is now standard. DualTrac track housing and an axle breather are optional.
ARVIN MERITOR, www.arvinmeritor.com, (248) 435-1000
Shore power option
The BlueCool Hybrid allows shore power to run the company's bunk cooler while providing hotel load, the company says. BlueCool Hybrid uses a standard 120-volt AC power source. Its components include an electrical cord (12 gauge, rated for 20 amps); a junction box including relays, fuses, and circuit breakers; a 30-amp battery charger; and a 120-volt AC ground fault circuit interrupt receptacle.
WEBASTO, www.webasto.us, (810) 593-6000
Combustion chamber cleaner
CombustiKleen upper cylinder and intake system cleaner is pulled directly from the can into the intake manifold in a fine mist that removes contaminants such as carbon, gum and varnish.
GOLD EAGLE, www.goldeagle.com, (800) 621-1251
Line-haul tire
The DL07 tire for line-haul vehicles features an aggressive block pattern, using four-channel zigzag grooves with stone ejector platforms. The DL07 also features a high-grip notch shoulder design and wide, flat shoulder ribs. The tire is available in 285/75R24.5 (14PR) and will be available in sizes 11R22.5, 11R24.5 and 295/75R22.5 by the third quarter.
HANKOOK, hankooktireusa.com, (977) 633-9000