Light the way for style and safety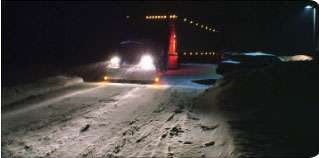 By Bruce Smith
For $150 and an hour's work, you can improve your forward lighting beyond stock halogen headlamps. Retro-style crystal headlights, such as the 7-inch rounds offered by United Pacific, can give your truck a distinctive look, while a Xenon White 80/100-watt bulb will provide more distance and brightness than a basic 55/60-watt bulb.
The drawback in newer trucks is that the electronic control module doesn't like the extra amp draw, so high-beams can go out within a minute of being activated. Michael Forst of 4 State Trucks, who performed this installation, says he resolved the issue by "running the high-beam side of the headlights through a relay to keep the electrical load the same as it was with the stock bulbs." He recommends a headlight relay for any upgrade to high-output bulbs.
The job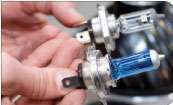 1. Remove the stock headlight housing. Remove the stock bulb from each United Pacific crystal headlight and replace it with the high-output 80/100 Xenon bulb. Don't touch bulb glass with fingers – oil or dirt can cause a hot bulb to shatter.

2. Locate the high-beam wire coming out of the firewall. The fastest way to do this is call your local dealer with your truck's VIN so you can get the actual wire number. Factory wires are tagged or stamped with numbers, as on this Peterbilt 359 high-beam wire.

3. Mount the headlight relay on the firewall or other location where it's high and dry. Follow the wiring diagram supplied with the relay kit.

4. Install new headlights into the housings and test high/low-beams. Adjust headlights as necessary. n
PARTS
• 80/100-watt Xenon White 9004 bulbs (#39101 / $19.50 pair)
• United Pacific 7-in. Round Crystal Headlights (#31387 / $79 pair)
• CSM High-beam Relay Kit
(#09-1606005 / $49.95)
• 12-gauge wire and connectors