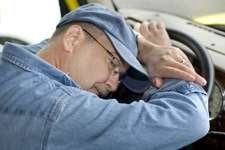 At the Sleep Apnea & Trucking Conference in Baltimore, trucking industry leaders, sleep medicine professionals, regulators and vendors gathered to find solutions for the problem of sleep apnea in trucking.
Mary Gunnels, director, Federal Motor Carrier Safety Administration Medical Programs, opened the session yesterday, May 12, with an overview of FMCSA's standpoint on fatigue and sleep apnea. "We know that fatigue is a problem," she said, "and we know that sleep apnea is a major contributor to fatigue."
She acknowledged that sleep apnea among truckers is a public health concern and that drivers have a tough job – and because of the nature of the job, drivers can suffer from multiple health problems. "Drivers deserve to be healthy," she said. To that end, she said it's imperative for industry leaders to work toward solutions for fatigue and sleep disorders in drivers, for their health and safety.
Dr. Martin R. Walker, chief, FMCSA Research Division, pointed to the prevalence of sleep apnea in commercial truck drivers, noting that a study published in 2002 found that almost a third of CMV drivers have mild to severe obstructive sleep apnea. This study, along with a later study, found that older age and higher body mass index are two factors commonly linked with sleep apnea.
Walker said FMCSA and the National Sleep Foundation have initiated an awareness campaign called "Get on the Road to Better Health: Recognizing the Dangers of Sleep Apnea" to "give individuals who may be responsible for health and safety issues within a trucking or motorcoach company clear and easy-to-read information on the symptoms, diagnosis and treatment."
Dr. William K. Sieber, National Institute for Occupational Health and Safety, presented research and training efforts by NIOSH designed to "improve health and reduce premature mortality." Immediate goals include establishing the prevalence of health risk factors and work-related illnesses among commercial drivers, reduce obesity among commercial drivers, reduce cardiovascular disease, identify and reduce workplace psychological stressors and increase appropriate utilization of health care.
Dr. Lawrence Epstein, chairman, American Academy of Sleep Medicine Adult Obstructive Sleep Apnea Task Force, focused on obstructive sleep apnea, its causes and treatments. He said the most common treatments are positive airway pressure (including continuous PAP, or CPAP) and oral appliances. Generally, Epstein said, CPAP is the most effective and yields the best compliance among users. Surgery is another option, but there is "no accurate measure to predict surgical success," he said.
R. Clay Porter, partner, Dennis, Corry, Porter & Smith, LLP, examined the potential legal ramifications of drivers with sleep apnea on the road. He said while sleep apnea has not become a major player in the realm of truck litigation, it is "going to be part of this legal landscape sooner rather than later."
He said trucking companies should keep solid records, particularly of logbooks, to demonstrate no corporate wrecklessness was involved in the case of an accident.
Dr. Natalie Hartenbaum, president, Occumedix, encouraged the audience to work together to find a way to get drivers with sleep apnea treated. She said despite some disagreement on what testing requirements should be (for example, the Sleep Apnea Medical Expert Panel said testing should be required at a BMI of 33, while FMCSA's Medical Review Board advocates testing at a BMI of 30), a stronger solution must be implemented. "What's the absolute wrong thing to do?" she said. "Bury your head in the sand and do nothing."
Bob Stanton, a trucker representing Truckers for a Cause AWAKE chapter, shared what it's like being a trucker with sleep apnea. He has been using a CPAP machine for about eight years. He implored attendees to look for ways to accommodate drivers because many do not get treated because they believe it will take them off the road.