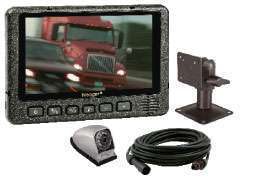 Camera system
The Heavy Duty Blind Zone Camera System displays rear views from up to three different waterproof cameras. The system comes with a 7-in. LCD monitor, a monitor mount, 25 feet of cable and a right-side camera. The monitor can be powered by either a 12-volt or 24-volt connection. The camera comes encased in a chrome-colored housing. DC triggers such as left and right turn signals and the reverse gear activate the camera system, which can also be manually operated. The camera and monitor combination offers views in real time, and the components have been tested to withstand vibration, moisture and temperature changes, the company says.
VOYAGER ELECTRONICS, www.voyagercorp.com, (877) 79804778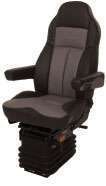 Seat has improved support
The Next Generation Legacy truck seat has longer armrests and enhanced back support. The shoulder region is 19 inches wide, and foam cushions minimize spinal pressure. The seat fully reclines and is available in a variety of materials. Both deluxe and standard versions are available, as well as seats for heavy-duty suspension and seats with a low profile. Each seat comes with a 7-year structural warranty.
SEATS INCORPORATED, www.seatsinc.com, (800) 443-0615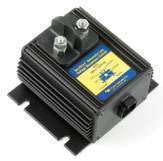 Disconnect switch
The SureStart low-voltage disconnect switch disconnects non-critical loads with an electronic sensor that detects excessive discharge. The switch has a service life of more than one million on/off cycles and a rating of 100 amps at 12 volts or 24 volts DC. It requires no separate solenoid, which simplifies installation, the company says.
COLE HERSEE, www.colehersee.com, (617) 268-2100

Furniture van
Made for household movers, the 18,200-pound TF1 furniture van is 1.5 inches wider than most vans on the market, the company says. The trailer is 53-ft. long and has 4,295 cubic feet of interior volume and an interior width measurement of 100.5 inches. Its side posts are 0.625 inches deep, and the interior is lined with snap-in high density polyethylene. Four curbside doors and two roadside doors are standard.
STRICKS TRAILERS,
www.stricktrailers.com, (888) 552-3055

Fiberglass CB antenna
The fiberglass antenna comes with an inner coil design and double helical continuous load and can handle 300 watts of power, the company says. The antenna's chrome-plated, brass ferrule fits most standard mounting systems. Francis offers the antenna in a black or white 4-ft. length.
FRANCIS ANTENNAS, www.francisantennaonline.com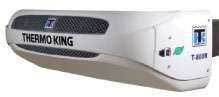 Unit has electric standby option
T-600R and T-800R temperature control units exercise an electric standby option allowing the unit to run on electric power while the truck is docked. The units also utilize reciprocating compressor technology to make the unit easier to repair in the field, the company says.
THERMO KING, www.thermoking.com, (888) 887-2202

Trailer dome light
Super 80 LED interior trailer lamp comes on when it detects motion up to 10 feet from the lamp's surface. The dome lamp is designed to stay on for 5 minutes of inactivity before shutting off. It is made of die cast aluminum, has a polycarbonate lens and a near flush mount design of 1.1-in. thickness. The lamp's 10 LEDs reach full brightness at 9.5 volts.
TRUCK-LITE CO.,
www.truck-lite.com, (800) 562-5012

Electronic torque wrench
These electronic wrenches are designed to improve accuracy in torque application, the company says. They use beam movement to gauge torque value and a gyro chip to measure angular rotation and sound an alarm to alert the over-use of torque. The company says the torque wrenches are made from solid state electronic design.
SNAP-ON, www.snapon.com, (8770 763-7662)

Wide-base drive radial
The Greatec M825 wide base drive radial is built with the Waved Belt design. The tire's turn-in ply design wraps the body ply around the bead bundle to promote a stronger, more resilient bead, the company says. The tire is available in the 445/50R22.5 size with an L load rating.
BRIDGESTONE, www.bridgestonetrucktires.com, (800) 815-9793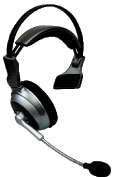 Bluetooth headsets
The LYTE COMM 737 and PRO BOOM 747 mono headsets feature Bluetooth V 2.0 technology, 10X noise-canceling technology, DSP dual mic technology, background noise reduction, a 180-degree flex boom mic and rechargeable batteries. Each model delivers 6 hours of talk time and up to 250 hours of stand-by time. The headsets include a boom mic, adjustable mic stem, adjustable headband, call-waiting, three-way calling, voice-activated dialing, one-touch call answer/end, as well as a USB travel charger and USB cable. Both headsets come with a 1-year limited warranty.
MIZCO INTERNATIONAL,
www.mizco.com, (800) 266-4026

LED lighting for tractors, trailers
LEDs for Class 6, 7 and 8 trucks have ultraviolet resistant polycarbonate lenses and a high diode count. The circuit board dissipates heat from the diode, producing light without risking damage to the diode. The lens and housing are sealed. The LED lights are available in white, red, amber, green, blue and purple for interior lighting and come with a 10-year limited warranty. They are available through authorized Kenworth and Peterbilt parts and service distributors for all tractors and trailers.
TRP, www.trpparts.com, (425) 254-6135
Air conditioning compressors
Air conditioning compressors come equipped with double end-capped PAC oil and anti-wear additive and are available for all makes and models of Class 6-8 vehicles.
ALLIANCE BRAND PARTS, www.alliancebrandparts.com