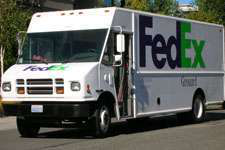 FedEx Ground has recognized three entrepreneurs whose businesses provide package delivery services for the company. Steve Crawford (Steve Crawford Trucking, St. Louis), Bruce Eucce (Bruce Eucce Transportation, Ventura, Calif.) and Nicole Huffman (A.R. Huffman Inc., Dayton, Ohio) were named FedEx Ground Entrepreneurs of the Year at a banquet recognizing them for their business development, customer service results, safety record and community support.
Of the nearly 12,000 small-delivery businesses that support the FedEx Ground network, Crawford, Eucce and Huffman were selected from a group of 22 finalists who represented the best for fiscal year ending May 31.
The FedEx Ground Entrepreneur of the Year honor was established in 2007 to recognize business men and women who have built businesses that most consistently go the extra mile to safely deliver superior customer service, help fellow delivery business owners succeed and support their local communities. Since the founding of the Entrepreneur of the Year program, FedEx Ground has named 428 regional honorees.
"For a quarter century, FedEx Ground has worked in collaboration with thousands of dedicated small business owners to deliver exceptional service to the marketplace," said Dave Rebholz, the company's president and chief executive officer. "These entrepreneurial men and women commit themselves to building small businesses that deliver on a promise of reliable cost-effective and professional service. Through their outstanding efforts they have built thriving businesses and, in the process, have made substantial contributions to their local communities."