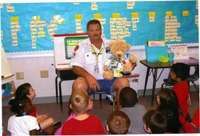 Interstate Distributor Co. husband-and-wife team Richard and Linda Thomas have been named Trucker Buddies of the Month for July, and Walmart driver Chuck Lobsiger, shown above in the photo, is honored with the same such award for August, Trucker Buddy International announced.
Residents of Edgewood, N.M., the Thomases have volunteered for the last two years with students in Janet Miller's class at Emma Elementary School in Asheville, N.C. The couple has mentored in the program for three years.
Lobsiger, a resident of Ocala, Fla., has helped students in Nancy Morrison's first grade class at Irby Elementary School in Alachua, Fla, since 2007.
In the nearly 20-year-old nonprofit outreach, truckers serve as pen pals and visit classrooms to help students with language skills and with scholastic subjects such as geography, math, social studies and history.