Commercial trailer net orders in September were more than double from a very weak September 2009 volume, according to ACT Research Co.
September's order activity represented the continuation of a healthy rebound from what was the worst year for commercial trailer demand in nearly five decades in 2009, the company said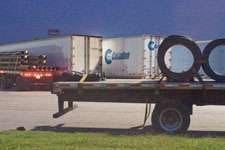 .
Orders for dry van trailers, the largest segment of commercial trailers, jumped 182 percent year-over-year in September.
 
ACT noted that net orders of 13,301 in September were nearly 19 percent above August levels.
 
"Net orders in September were at their highest volume since May; however, when seasonally adjusted, September's order activity represented the best volume in the past 32 months," said Kenny Vieth, partner and president of ACT Research. "Strong reefer van orders and improved flatbed trailer orders were key drivers of demand in September," he added.