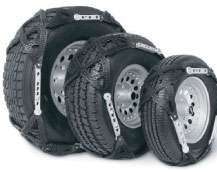 Tire traction system
The GoClaws tire traction system is made to run in mud, sand and snow and on ice. The system uses an injection-molded polyurethane assembly that passes Society of Automotive Engineers clearance requirements and is designed to reduce damage to tires while improving traction in poor weather. Sizes are available to fit tractor-trailers.
Flex Trax, www.flextrax.com, (800) 788-9912

IntelliRoute software update
New features for the IntelliRoute TND trucker-specific GPS navigation unit include mileage data reporting, enhanced voice warning system, final mile address notification and full-route text preview. The mileage data reporting can be exported to spreadsheet form and uploaded to other devices. The warning system alerts users of sharp curves, steep hills, speed limit changes and speeding. The new driver-controlled auto-reroute allows drivers to pause routes and resume later. An IntelliRoute TND application for the iPad will be available next year.
RAND MCNALLY, www.randmcnally.com,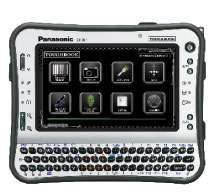 Toughbook handheld computer
The Toughbook U1 Ultra portable handheld device is tested to withstand collisions. Designed for highly mobile jobs, the U1 Ultra has improved sunlight display and options for a 29-key numeric keypad, GPS, barcode reader, camera and mobile broadband. It provides remote access in real time.
PANASONIC, www.panasonic.com , (800) 405-0652

Wheel nut replacement
The Skirt Nut is an aftermarket replacement for common wheel attaching nuts on hub-piloted wheels. It has an extended threading design that allows it to enter the hub-piloted disk wheel 3/16-in. farther than the stud hole to stop vibration and conditions that cause loose wheels. The nut is coated in graphite-based sealant to prevent rusting. It replaces 22-mm by 1.5-mm flange nuts. 
ESCO, www.esco.net, (800) 352-9852

In-cab scale display
Readings from the LoadMaxx series of truck and tractor scales can be viewed with an in-cab, 1.8-in. by 3.3-in. display screen that mounts to flat surfaces with permanent adhesive tape or a swivel mount. The LoadMaxx converts tractor and trailer suspension loads to an on-the ground weight using digital two-point calibration. A round display screen is also available.
AIR-WEIGH, www.air-weigh.com, (888) 459-3247

LED rocker switch
The LED Rocker Switch is a low-current input membrane switch that is compatible with micro-processor-based electrical and electronic systems. It has wrap-around green and yellow colored lenses that act as part of the switch's actuator and increase visibility. The switch meets the IP66 dust and high-pressure water standards. The switch installs by snapping into standard panel holes.
COLE HERSEE , www.colehersee.com, (617) 268-2100