Quiet power
Volvo's premiere owner-operator engine has a smooth operation that belies its muscle.
The Volvo D16 engine is "a standalone engine," says company Powertrain Marketing Director Ed Saxman. "We have three engines that all have the same DNA, meaning all use parts designed with the same basic concept. Yet the engines are clearly different, with dimensions like the spacing of the cylinders changing with the size."
The sizable 16-liter machine has a maximum rating of 550 hp with 1,850 lb.-ft. of torque. The basic design was optimized for the 2007 engine introduction, with the block and major parts receiving a redesign to strengthen them and the engine getting a new EGR valve, a much larger EGR cooler and a new variable geometry turbocharger. With the 2010 engine undergoing reduced rates of EGR, it should be more than up to the stresses it needs to handle.
One of the advantages of such an engine, Saxman says, is that D16 owners like Tom Meunier can run a D16 for power, yet use it with a 3.08 rear axle and an overdrive I-Shift transmission to optimize fuel economy.
Meunier, the Orlando, Fla.-based owner of Exotic Car Transport, hauls his high-end-car cargo in enclosed trailers that are relatively heavy, so his trucks operate at 80,000-lb. GCW. Meunier has two Volvo VNLs with D16s. He says his 2007 specification engine gets 6.75 mpg and the 2010 engine delivers 7 mpg.
"My drivers sure are not complaining about the hill climbing power," he says. "The I-Shifts just drop a gear, and the truck then just goes on up the hill."
Meunier claims the D16 is as quiet as a competitive 13-liter engine he road tested recently. "We have had no trouble to speak of. One of the reasons I bought these engines was that I toured the Hagerstown plant where they are built and was really impressed." All he's done to keep the trucks going is change the 15W40 mineral oil and replace the Volvo OEM filters every 25,000 miles.
One reason for the quiet operation Meunier noticed is the D16's camshaft-operated unit injectors. The camshaft is driven at the rear, which allows the mass of the flywheel to smooth out operation and reduce the noise produced by the gears that drive it. It does this in spite of helping to produce what Volvo says are the highest injection pressures in the industry.
Saxman says the injectors were replaced recently with a new design using special valves that allow what is called "rate shaping." This means the rate at which fuel goes in can be regulated, starting out slowly to make the engine quieter and help control peak combustion temperatures. It results in lower soot and NOx production, and less work for the diesel particulate filter and selective catalytic reduction systems.
Other design features include surrounding each cylinder with eight bolts, rather than six, to retain the cylinder head, and having four bolts to retain each connecting rod bearing cap.
"We didn't leave anything out," Saxman says, including "durability features like plasma coatings on valve and injector rocker parts and the piston rings, and a complex system of piston cooling by the oil."
The D16's engine brake shares a design feature with the other Volvo engines, says Saxman. It's an extra bump on the part of the cam that activates the brake. This charges the cylinder with pressurized air before the compression stroke, thus greatly enhancing brake performance. n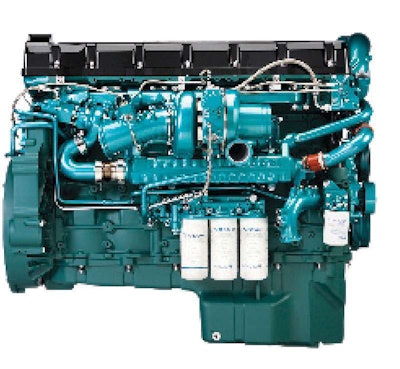 Volvo D16
Configuration: In-line, 6 cylinder direct-injection
Capacity: 984 cu. in. (16.1 L)
Bore and stroke: 5.67.x 6.50 in. (144 x 166 mm)
Compression ratio: 16:1
Dry weight: 3,036 lb.
Governed speed: 2,000 rpm
Power and torque: 550 hp @ 2,000 rpm (575 hp peak); 1,850 lb.-ft. @ 1,100 rpm
Engine brake capacity: 340 hp @ 1,500 rpm
Injection system: Camshaft driven, dual-valve electronic unit injectors; rear camshaft drive with torsional damper
Turbocharger: Sliding nozzle variable geometry
Lube oil capacity: 55 qt. (52 liters)
Oil filtration: Two full-flow filters, one bypass
Standard oil change: 35,000 miles
Fuel filtration: Engine-mounted primary filter
Emission control: Water-cooled EGR with stainless steel EGR cooler and dual-path balanced flow EGR valve, selective catalytic reduction.