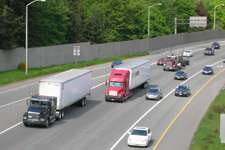 The American Trucking Associations' advance seasonally adjusted For-Hire Truck Tonnage Index edged 0.1 percent lower in November after increasing a revised 0.9 percent in October, ATA announced Friday, Dec. 17. In September and October, tonnage increased a total of 2.8 percent.
The latest reduction put the adjusted index at 109.7 in November from 109.9 in October. The nonadjusted index, which represents the change in tonnage actually hauled by the fleets, equaled 108.9 in November, down 3.7 percent from the previous month.
Compared with November 2009, adjusted tonnage climbed 3.9 percent, which was significantly lower than October's 6 percent year-over-year increase. Year-to-date, tonnage is up 5.9 percent compared with the same period in 2009.
ATA Chief Economist Bob Costello says he is not overly concerned with the small decrease in tonnage during November. "Tonnage increased for two consecutive months in September and October, and I don't expect volumes to rise every month," Costello says. "Additionally, the decrease in November is much smaller than the gains during the previous two months." Costello said he expects truck freight tonnage to grow modestly during the first half of 2011 before accelerating in the later half of the year into 2012.
ATA calculates the tonnage index based on surveys from its membership. The report includes month-to-month and year-over-year results, relevant economic comparisons and key financial indicators. The baseline year is 2000.