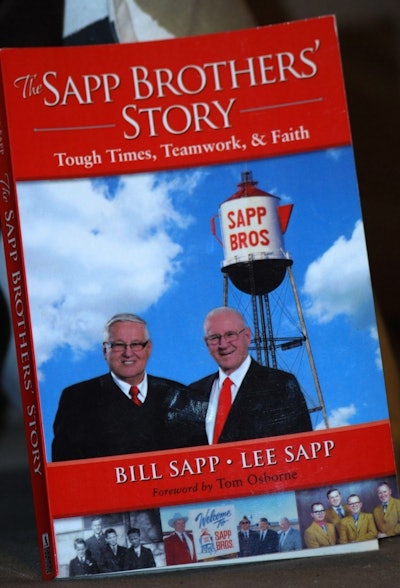 Sapp Bros. Travel Centers' Bill and Lee Sapp have penned their collective autobiography, out now from Addicus. The book follows from their youth among seven Sapp children in southeastern Nebraska to the near-present, with the Sapp Bros. name a veritable legend among longtime haulers, particularly in the Upper Midwest.
In the year 1971, Bill and Lee, with brothers Dean and Ray, after success selling GMC trucks in Omaha, Neb., built their first truck stop before Interstate 80 through Omaha was yet finished, showing business foresight that would guide them through their subsequent success. Today, with 16 truck stops ranging from Utah to Pennsylvania, they're celebrating the 39th anniversary of that first stop with the book's release. Among many gems in the book is the following paragraph, in which Bill Sapp attempts to explain the motivation of the dedicated truck stop operator in the late 1960s, as the Sapps planned to build the initial stop:
Back then the trucker was King Kong. By that I mean he was a powerful giant in the eyes of truck stop operators, who did everything they could to please him. We were no different. He was our customer and he bought lots and lots of diesel fuel, and we appreciated it.
Most of those giants, as Bill Sapp notes, at that time were independent owner-operators.
Organized in chapters alternating between the voices of Lee and Bill in a conversational style well-captured on the page by the authors, the book begins with Lee's birth at the dawn of the Great Depression and rolls up to today. Narrowly focused on their lives, but at once expansive as reflections of the history of the American 20th century, the book will interest anyone with curiosity about recent Nebraska history or the story of American trucking business in the last century.
Purchase the book at Amazon. It retails for $19.95.