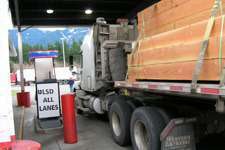 After declining the previous week, the national average retail price of diesel increased 2.5 cents to $3.932 a gallon during the week ended March 28, according to the U.S. Department of Energy's Energy Information Administration.
The national average price is at its highest level since Sept. 29, 2008, when it was $3.959 and almost $1 a gallon higher than the same week last year.
The West Coast and California led the higher prices. California jumped 5.7 cents to $4.256, the most expensive in the nation. Average West Coast fuel surged 5.1 cents to $4.155. The Rocky Mountain area gained 3.4 cents to $3.959.
For state-by-state diesel prices, updated daily, click here.