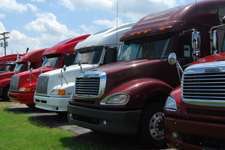 The Class 3-8 used truck market fell 10 percent in July, reversing the market gain posted during June, ACT Research Co. said.
Lack of inventory continues to be a challenge for the industry, with particular pressure occurring in the late model/low mileage market segment. For the year, the used market is 4 percent behind the year earlier.
"We expect both age and mileage of used trucks to continue to grow throughout the rest of 2011," said Steve Tam, vice president-commercial vehicle sector with ACT. "Despite those trends, tight supply will result in used truck prices drifting further upward."
Meanwhile, total U.S. commercial trailer net orders declined 2 percent in July from June. The industry has now posted declines in net orders for four consecutive months.
When combined with solid trailer production volume during July, the decline in net orders resulted in industry backlogs slipping 4 percent month-over-month. Industry backlog, which ended the month at 93,600 units, closed up 97 percent in July year-over-year.