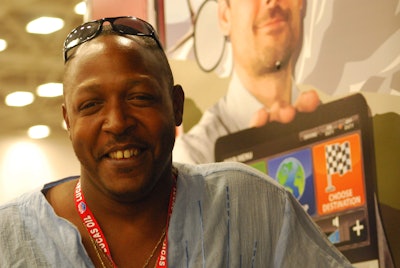 I got the grand opportunity to meet an owner-operator at the Great American Trucking Show last week who holds something of a grand distinction of being the only OO I know who's had a $25,000 check written to him just for being who he is. That owner-operator is St. Louis-based Edward Crumer (pictured), leased to Allied Van Lines and hauling for Florida-based agent Sorensen Moving & Storage in a 1997 Freightliner FLD. Rand McNally, with sponsor partner NAVTEQ, presented Crumer its Navigator of the Year award based on Crumer's self-nomination essay and his business' profile.
Crumer — who runs with his wife Krystal and made sure I'd put out a shout to his fellow "bedbuggers" among the moving set at Allied — makes "blue chip" moves. "I move executives," he says. Also, he's been called on to deliver goods of fallen soldiers to their families. He calls one of the more affecting moves of this kind he's made was a delivery to the family of a soldier who'd ordered a brand-new set of drums that he ultimately would never get to play. "His mother had held all her tears in" throughout the move, says Crumer, "until she saw that drum set." As she began to let go, "you could see the peace come over her. I knew God had a reason for me to be doing this, then. I was meant for it."
As for the $25,000, Crumer says he's contemplating one of two moves himself — "either I'll trick my truck out right or put it some of the money down for a new one. My truck note has been gone for seven years, and I've gotten used to that, plus I've got a daughter in college now." Time will tell.
The award was the ultimate result of submissions from drivers garnered during Rand McNally's Moving American Trucker Appreciation Tour, which kicked off at the Mid-America Trucking Show in March. The company visited truck stops around the country, talking to drivers and owner-operators of all stripes about what they do to keep the country moving. Crumer's story recounted his most difficult haul this past year. Deep in the Canadian Rockies in mid-winter, between Calgary and Vancouver over Rogers Pass, Crumer was stopped three times due to ongoing avalanches. Find more about the competition here.
Related stories
Rand McNally announces contest winner, map upgrade program
Scenes from GATS
Rand McNally offers GPS traffic feature